Josee Bouchard-Kadej has the longest of Foothills School Division's bus routes.
Every weekday, she arrives at the division's bus garage near Aldersyde around 5:15 a.m. to complete her pre-trip vehicle inspection and prepare to pick up her students, all of which are in high school.
Many teens, like some adults, are not a fan of mornings, and even as they board the bus with their hoods up and headphones in, Bouchard-Kadej always greets them and ensures they feel comfortable on her bus.
"I think I'm the first face from the school that they see in the morning and the last one they see in the afternoon," she said. "So, I don't care if I'm feeling crappy — they get a "Good morning, your name" and a smile every single day."
After completing her first stop just eight kilometres outside Bragg Creek, Bouchard-Kadej heads back east to her last stop at Corner House Café near Millarville, before dropping the students off at Foothills Composite High School and Cameron Crossing School.
Bouchard-Kadej, an Okotokian of 25 years, began her career as a bus driver seven years ago, after years of work in the restaurant industry.
"I decided that I didn't want to deal with that kind of pressure and stress anymore," she said. "So all of a sudden, after years and years of doing restaurant work, I thought, 'You know what, I'm going to get myself behind the bus.' And when I was there, it was like, all of a sudden I had my own set of guts."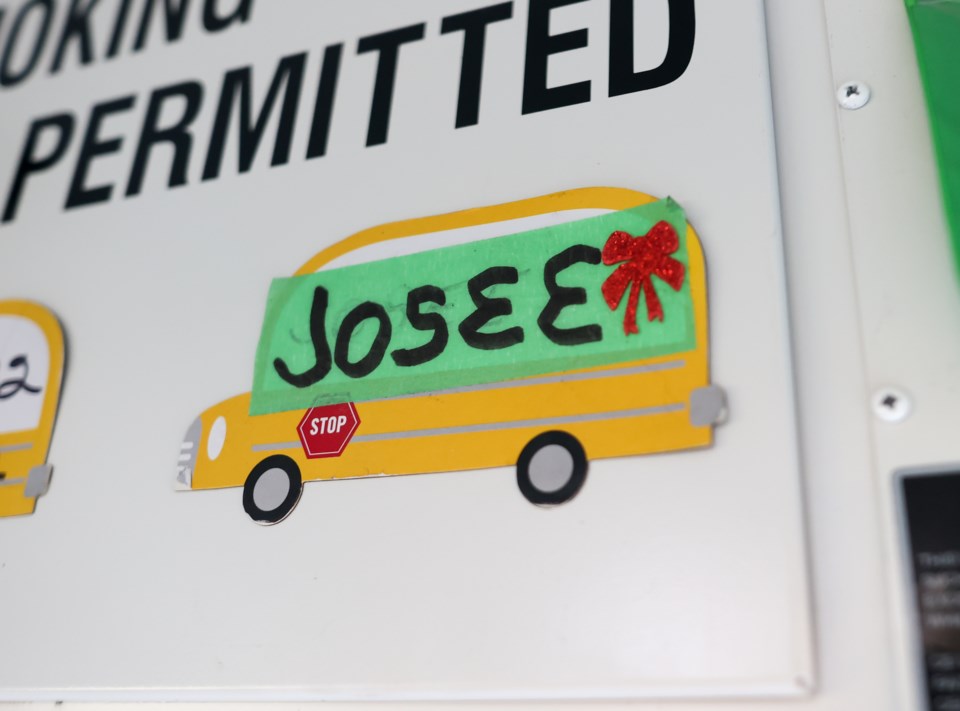 A safe space
The bus driver is very passionate about her work, always going the extra mile – literally. One of her favourite things to do is decorate her bus, especially for Halloween.
She has a new spooky surprise for her students to see every day when they board the bus, thanks to her husband, who has an eye for horror décor.
"They get a big kick out of it," said Bouchard-Kadej.
Teenagers will be teenagers, she added, and as long as the students are putting themselves or anyone else at risk, she lets them be; even cranking some tunes to fill the air.
"I like noise, within reason," she said. "I don't mind that they laugh, that they joke.
"It's nice."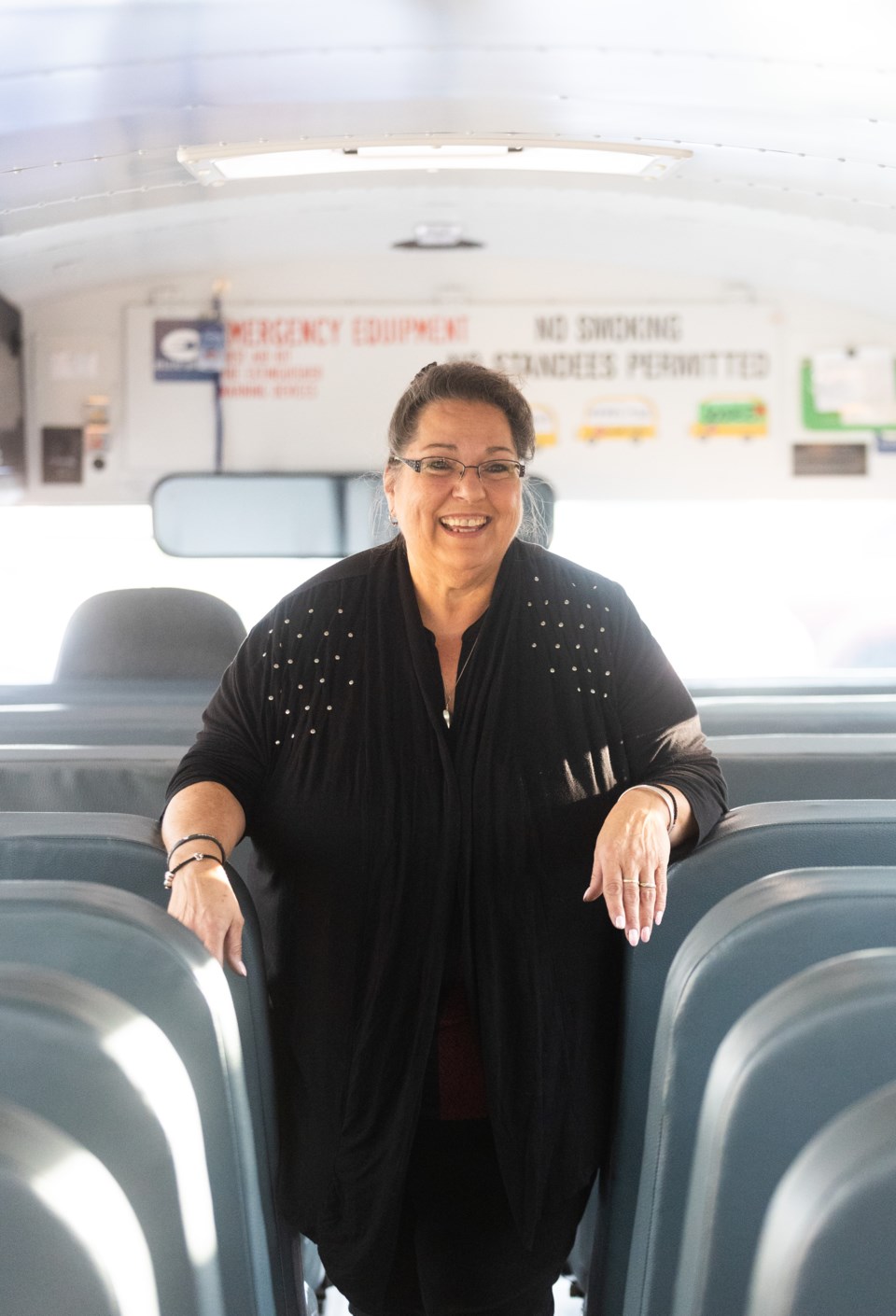 She gets to know her students and their parents, even posting her phone number at the front of the bus so the kids can call or text when they don't need to be picked up. Bouchard-Kadej even keeps up with her students' extra-curricular activities, mentioning that one of them recently committed to the University of Calgary Dinos rugby team.
Recently, one of her students seemed a little off – stomping onto the bus and sitting down by himself rather than his seatmate. When it came time to drop him off at her second-to-last stop, Bouchard-Kadej took a moment to check in.
"As he was coming out, I said, "Hey, we'll see you tomorrow morning" and he goes "Yeah, OK,"" she recalled.
"And I said, 'I'll be the one wearing the big yellow bus,' so he laughed."
Even if things have gotten out of hand the day before, or even that morning, there's no shortage of fresh starts on Bouchard-Kadej's bus.
Buzz the Bus Police Officer
Bouchard-Kadej recalled a previous rider of hers who had autism, whom she adored.
One day, the child had reached their limit, and the noise and stress of the bus became too much. From their seat in the front, the student hit Bouchard-Kadej and she was forced to pull the bus off the road.
She said at that moment, she began to cry, not because she was hurt, but because she knew the incident would likely result in the student being removed from her bus.
"I know he's not going to get to stay on my bus and I like that kid, I'm happy I have him," she said teary-eyed, recalling the moment.
After conversations with the student's parents and her supervisors, Bouchard-Kadej was able to keep the student on her route.
Then, she had an idea.
To keep the student company in their seat, Bouchard-Kadej went out and purchased a large plush dog. Her husband found a kid-sized police uniform and dressed it up, before setting up a seat belt for the dog.
She named him Buzz the Buss Police Officer and just like that, her student had a daily companion.
Those two would get up to trouble, Bouchard-Kadej said, when the student figured out their shoes could make a loud screeching noise if dragged on the floor the right way.
The driver recalled the first time it happened.
"This awful screech comes out of my front end I'm thinking, 'What the heck?' And I'm listening and slowing down and listening," she said. "I look in my mirror and I see the kid busting a gut."
Every time she would look at the student in the mirror, they would laugh. She soon realized that there was nothing wrong with her bus and it was the student making the noise, so she seized the opportunity to make him smile.
"So I said, "You're making my bus fart?" And then it was on," Bouchard-Kadej recalled. "He laughed, I think, a mince pie out of his nose he was laughing so hard."
This became an effective tool for the driver to brighten the student's day and divert his attention when needed.
"That's one of my favourite stories ever about that child, it was awesome," she added.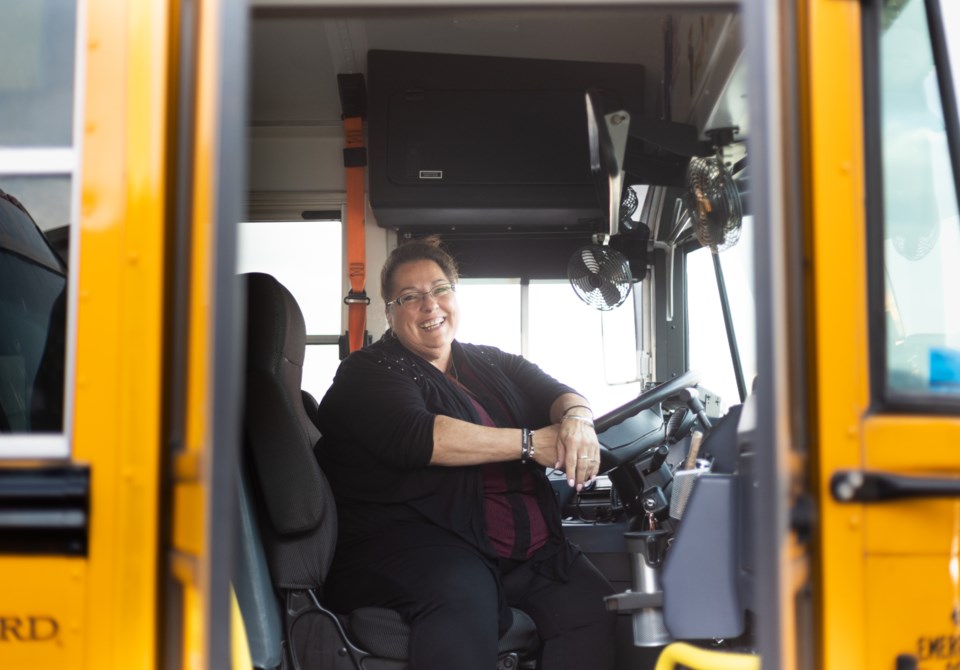 Bumps in the road
For the most part, Bouchard-Kadej said her job is stress free, but there are days when she has to deal with some things she'd rather not.
For instance, the school division has seen numerous instances of vehicles speeding past buses with their stop signs out and red lights flashing – a sign that the driver is picking up or dropping off a student.
One of the public school division's bus routes (not Bouchard-Kadej's) had 27 vehicles commit this offense on a single route in the spring. Drivers caught in the act face a fine of $543 and sometimes a visit to court.
Bouchard-Kadej said she's often driving on less frequented roads to get students to and from their farms, so she doesn't have to deal with this regularly but when she does, it's unfortunate.
A school superintendent said it best, bus drivers are children's daily caretakers. A student is more likely to be involved in an incident while entering or exiting a bus than while riding one.
School buses also don't have the best tires, the driver explained, and she's had a few instances of getting stuck on country roads. But her floor mats have almost always come in handy when she needs some extra grip under her tires.
Ultimately, everything Bouchard-Kadej and all bus drivers do is for the safety of their students, she said.
And, at the end of the day once all the students are back at home, she thoroughly enjoys being able to drive by herself on the big yellow school bus and sing along to all her favourite songs – even if the bus does tend to sway when it's empty.