SPREADING OPTIMISM can start at any age.
And for the Okotoks Optimist Club, there's been a home for
youth wanting to better their community one meeting at a time ever since the summer of 2021.
"There are Junior Optimist clubs and service clubs all over the world so it's nothing new, it's just something I thought we could bring to Okotoks," said Okotoks Optimist Club president Amy Giroux.
The seeds for what blossomed into the kids club were planted early on when many of the adult members of the Optimists had their children with them at meetings.
"When we chartered the club one of the moms, Amber Pond
said, 'When are you going to get the kids their own club?' and I said that could actually happen," Giroux said. "Before I knew it, my kids were having their own meetings at my place and all of the kids were coming to all of our fundraising events.
"It just kind came about organically that the juniors started their own club."
The growth of the junior club actually outpaced that of the Okotoks club as a whole as friends encouraged friends to join.
"Kids keep coming and inviting their friends and it's fun," Giroux said. "Their main focus shifted though, because our club has shifted a little bit in what the adult club can provide directly to Okotoks, and we still want to be able to provide to non-profits.
"So, our juniors have kind of taken that into their own hands and they get to learn from that and get to become good citizens by providing to other non-profits, raising money and learning about these other organizations that exist.
"It is a beautiful thing."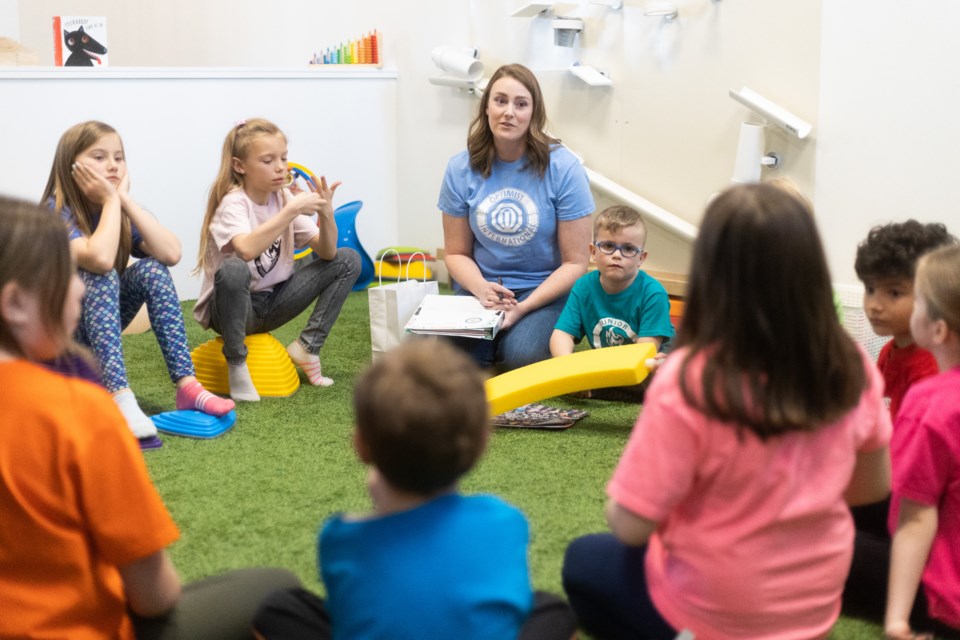 The Kids for Kids Club officially launched last summer and currently boasts just over 20 members.
The group meets monthly at The Park in Okotoks with the adults in a mentorship and guidance role in the background.
For those who aren't able to attend meetings, the club has taken steps to maintain participation and community with at-home kits also available for the members.
"We have some older kids who will take the talking stick and will have their own ideas and then we roll with it," Giroux said. "And some things come out of the blue."
The meeting on March 25 concluded with everyone in the group getting an opportunity to share happy news in their lives, from recent achievements to hitting new personal heights.
Passion projects that have come out of such meetings include save the bees initiatives, which will entail planting flowers and trees.
Recently, the kids have also participated in Sheep River cleanup events, conducted donation drives for It Takes a Village, run kid- friendly activities at the Pumpkin Chunkin' and decorated a tree for the Sheep River Health Trust's annual Avenue of Trees fundraiser.
"It was their own idea with how they were going to decorate it and they decided they wanted to wrap presents, put the presents on the tree as ornaments," Giroux said. "And their tree got chosen as the Tree of Hope and was donated to a family, which was awesome, and they also received a ribbon which they were so proud of."
Junior Optimist Rain Penner said it's a thrill to be part of something bigger than himself.
"It's pretty fun, you get to learn about a lot of stuff," Rain said. "And get to go on lots of tours, like to the food bank.
"We get to donate money we get to things like cancer (charities) and the food bank.
"It makes me feel good."
For junior club member Emma Rae, the joy comes from assisting others.
"It's really fun because we get to learn the different ways to help people and be kind to people," she said. "And it really makes you feel good about yourself because you know that you're helping people's lives."
For Giroux, the importance of community and looking out for others being fostered at an early age amongst the juniors has been a natural process.
"I have to give credit to the kids because it's something I thought I would have to teach," Giroux said. "But they learn through this experience and they're learning through their parents so they're seeing all of it and they just kind of are that way.
"I received another story from another mom about how her son was walking home from school and he helped take a garbage can up to this woman's walk after she was struggling and it was icy.
"The kids are just really great kids and it's nice to see them all get along and want to give back to the community."
Giroux set up the Okotoks chapter just over three years ago after feeling somewhat disconnected from the community and conversing with a cousin in Ontario about how to remedy that.
"The Optimist creed was something I read and I really liked it and wished I could just have that in my daily life," she said. "Then my cousin, who is also an Optimist member in Ontario, said, 'Well you should start an Optimist club.'"
From there, Giroux gauged community interest on social media groups, gatherings were held and before long the club started to grow.
"It started as a club just to get to know more people and be active in the community, have events and just meet some more people," she added. "And from there, we actually developed our purpose, and we had to get to know our community a little bit, and our purpose now is to develop youth citizenship."
Some of the upcoming items on the agenda for the club include building a website connecting youth to events in town, promotions from local businesses, job postings and volunteer opportunities.
Building outdoor spaces in town where youth feel welcomed is also on the docket.
Through research online, the club got a sense of teenage youth feeling disconnected from the community. It's also come up in meetings with Okotoks Mayor Tanya Thorn, Giroux said.
"I thought, 'Well, that's great and this should be our purpose,'" she said. "All of our initiatives from now on will be driving towards making youth feel connected in Okotoks.
"That's our mission now."