The COVID-19 pandemic changed many things.
For small business owners, off-and-on mandated closures, supply chain disruptions and a challenging market made daily operations taxing, to say the least.
Clint and Robyn Pigeon weren't lucky enough to skirt the stress of the pandemic, but instead used the time as a chance to check a couple items off their bucket lists and expand their brand.
The Pigeons are well-known for their first venture, Two Birds, where they salvage material from old buildings to construct modern rustic barn doors, mantels, shelves, feature walls, beams and furniture.
When the pandemic hit, business slowed significantly, but that didn't mean the couple took a break.
"We started another company during COVID, because you get shut down, you're only going 40 hours a week and you're used to going 80, you're like, 'OK, well now what am I going to do with my time?'" said Clint.
So when most of the world was fiddling with sourdough starters, attending drive-by birthday parties, and figuring out Zoom and TikTok, the Okotoks business owners decided to step out of their comfort zone.
Having consistently received questions about how the pair operates as husband and wife as well as business co-founders and co-owners, they decided to write a book about their experience and provide practical advice to people considering a new venture with a partner.
"We actually sat there for eight hours and went through the whole book, head-to-toe, on Valentine's Day," Clint recalled. "We ordered in food to the shop, and we just sat in front of the TV, and we just worked through the entire book, and then we submitted it that night."
Covering the 'ins and outs and all the 'bouts', the book focuses on the couple's personal experience launching and managing Two Birds, mixed with self-awareness tactics, communication strategies and tips on work-life balance.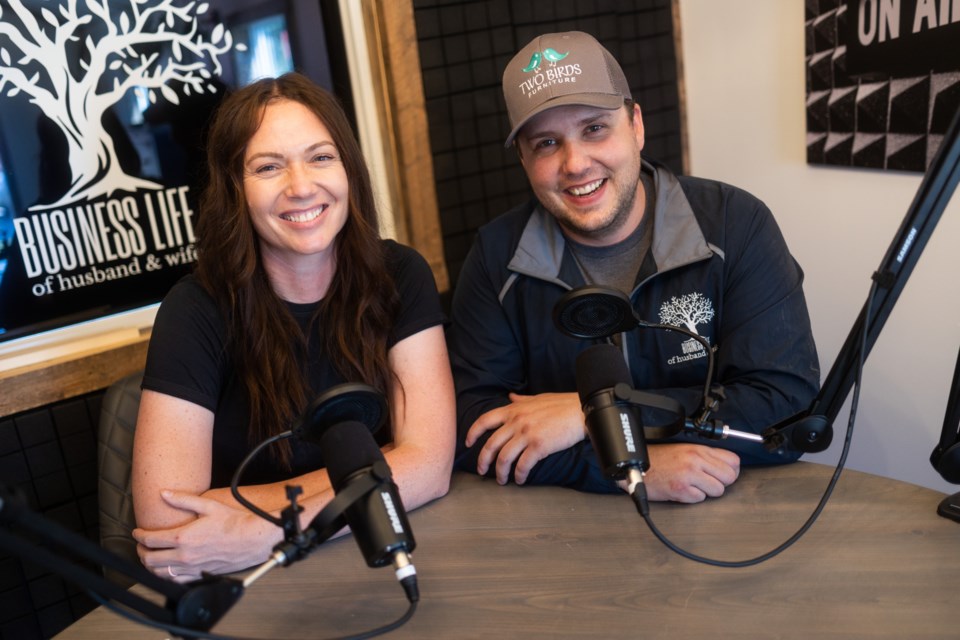 A few months later, the furniture salvaging company was still doing just that, when it was made an offer Clint couldn't refuse.
"It came to fruition one day that this woman, who we're tearing down one of her buildings, was like, 'Hey, I have this old bunkhouse. Do you guys want it?'" said Robyn.
"Clint without hesitation, because that's who he is, is like, 'Absolutely, we'll take it. We'll move it tomorrow.'"
The couple decided to move the bunkhouse to their shop's property on Fisher Street and renovated it into a podcast studio; first for others to come and record their shows and have onsite assistance with editing and post-production.
Then, they figured they might as well start a show of their own to go along with their book.
Business Life of Husband and Wife – the podcast – is now halfway through its first season with 26 episodes in the bank.
On the show, Robyn and Clint bring on other husband-and-wife teams to pick their brains about what running a business looks like for them and complement that content with conversations from marketing experts, lawyers, accountants, HR firms and more.
So far, guests have included Lee and Kelly Hodgins, who operate three COBS Bread locations, including one in Okotoks, Lisa and Mark Watts of Hub Town Brewing, Gavin and Sara Rae from The Park and The Point, and Jarod and Michelle Traxel from Little Fast + Fresh.
Their aim is to create a tangible resource for duos looking to dive into something new and to form a community of spousal business partners who can find common ground and pick each other's brains, something they said is lacking.
The couple said becoming authors and podcasters wasn't something they foresaw.
Two Birds began in the 10-by-10 basement of a Cranston townhouse, after the couple made the decision to leave their individual ventures.
At that time – about nine years ago – Robyn was working as an equine sports therapist and Clint was doing custom farm and acreage development.
They said they hardly saw each other due to their hectic schedules.
"We ultimately wanted to do something together," said Robyn.
Being hyper aware of the housing market, homebuilding trends and recognizing what it is they want to accomplish have helped the couple get where they are today.
"I don't think there was ever that set vision," Clint said. "When you first start out, you're just trying to keep your head above water, not go bankrupt, make sure you pay all your debts off and you get to a level where you actually are able to start providing value at a higher level."
They agree the current path is exactly where they were supposed to end up, even if they didn't know it at first. Their journey, however, is far from over.
The long-term plan is to expand the brand with the addition of two more books and at least two more seasons of the podcast.
"We're basically in love with running businesses and operating and learning how to lead businesses," said Clint.
"And how to be better," Robyn added.
The husband and wife of eight years don't often take regular time off with their hands in so many pies, but they try to schedule one big adventure per year.
They recently returned from a trip where they canoed across Scotland on the Great Glen Trail and in the past have hiked the West Coast Trail and the Gold Rush Trail.
While some would prefer a beach vacation, the Pigeons want to get off the grid and challenge themselves.
"We use it as a way to disconnect from the chaos that might be going on and to reconnect us as a team," Robyn said.
Owning a business with a spouse gives a whole new meaning to 'building a life together' and the Pigeons wouldn't have it any other way.
The format isn't without its challenges, but they say there are a few things to keep in mind.
One of which is figuring out what you need to stay focused, Robyn explained. She said her husband is quite good at staying laser-focused on a task for days at a time until it is complete. Then he is able to shift to completing something else. For her, a daily to-do list is essential, and she said she needs intermittent times to be with friends or do things not related to work in order to function.
They also work hard to maintain a work-life balance, even though they go hard at it 12 hours a day, six days a week. They've created what they call a 'separation point' where on the 45-minute drive to and from work they ease in and out of plans for the day.
Recognizing one's stress triggers is also important, as are eating regular meals and getting enough sleep.
All in all, the two birds are just trying to constantly improve themselves, Clint said. Whether it's creating a community of husband-and-wife business owners, cultivating resources for that community or canoeing 100 kilometres across Scotland, they are up for nearly anything.
The couple is also set to be mentors for Community Futures beginning in the fall.
"We don't fit in a box, we're not box people," they said.