The Foothills has no shortage of outdoor adventures to enjoy.
It stands to reason, then, numerous local businesses would rise to the occasion, catering to those pursuits and filling niches in new and innovative ways.
While its name, drawing on the Internet chat acronym GTFO (Get the F**k Out), and woodsy branding are fairly self-explanatory, the GTF Outside mission is specific: to #endthesilence around mental health.
"We started doing some research on mental health and the benefits of getting outside, and it just seemed like a perfect fit," said Melissa Swain, who assumed the business in 2019 with her husband Curtis from a relative who had started it as an equipment rental branded GTO Rentals.
The Swains shifted more toward lifestyle clothing and accessories, and slowly their brand has gained notoriety, locally and abroad, with thousands of 'ambassadors' around the world repping their not-so-subtle suggestion to enjoy the outdoors.
"We had experience in our family with anxiety and depression and started to catch onto the cycle of the difference it would make if they got outside first thing in the morning," Melissa said.
"It just took off from there and fell right into COVID a few months later, and then all of a sudden mental health was huge.
"We were a little unsure of what kind of feedback we would get from our bold name, but surprisingly everybody loves it – there's the odd person that doesn't like that word, but a lot of times they'll spin it because they like our mission, to 'Get the Family Outside' or 'Get the Fun Outside.'"
Curtis also noticed the significant increase in awareness and value people placed on mental health.
"We really noticed at that time where the world was starting to shut down and tell people to stay inside," he said. "We realized there was going to be a lot more issues coming from that than expected, so we pushed harder."
Growing its designs, the company also started supporting the Grizzly Bear Foundation with a line of products, as the animals have a special place in Curtis' heart.
"We've got 2,200 ambassadors now across Canada and the United States, so it's taken off massively," Curtis said. "Because we're not only pushing people to get outside for their mental health benefits, we're also creating a community of people where our second motto is 'Just F**king Be Kind.'
"So people know that when they go outside and see somebody else wearing a GTFO product, they're in good company."
Grown from an online business, the Swains have now opened a storefront in the Stockton area.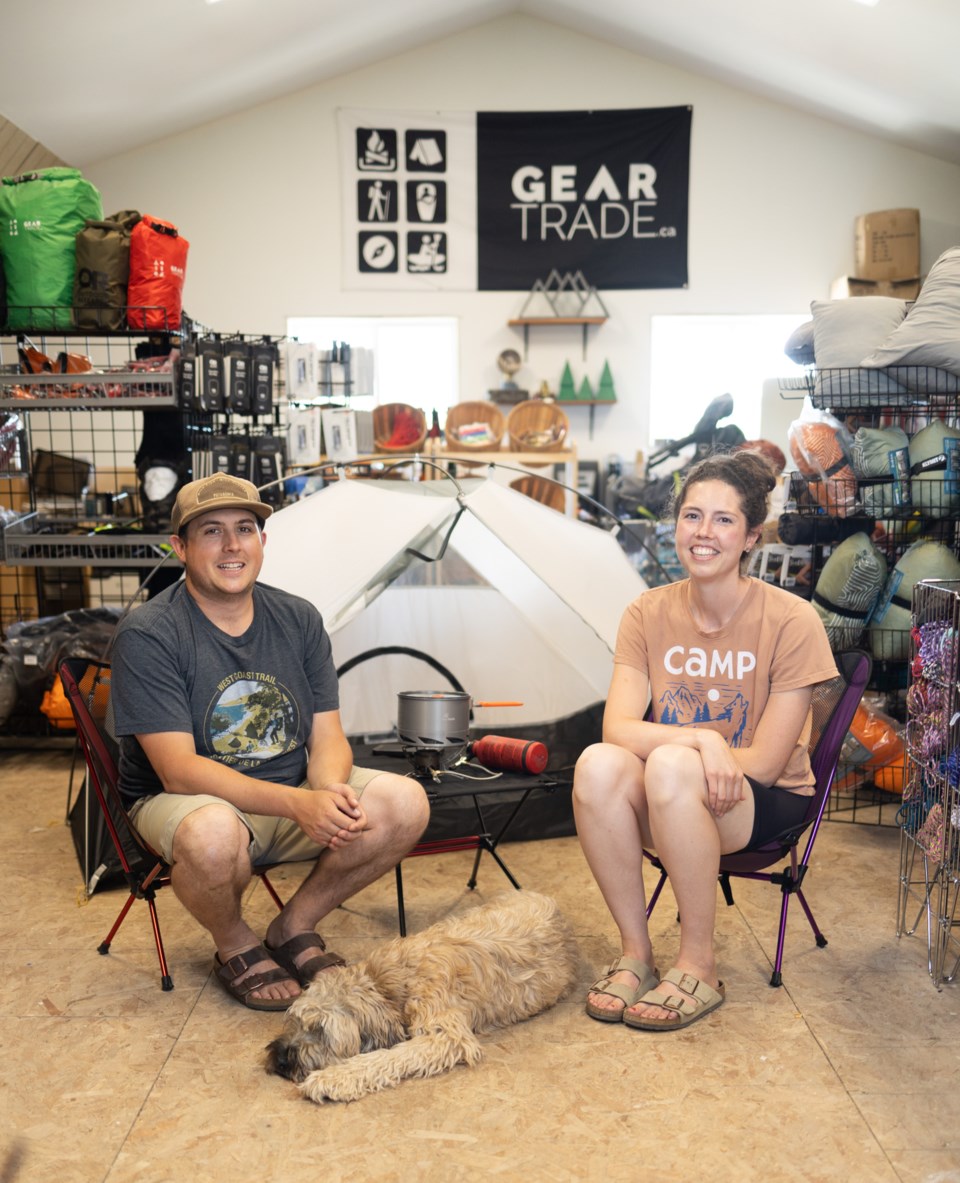 GearTrade
Originally run out of a home on a small scale, Jesse and Michelle Hebenton bought GearTrade in 2019 and relocated it to the loft of an outbuilding on the family acreage.
Jesse expanded the business to cover a full selection of curated goods for hiking and camping, crediting his success thus far to being a good listener and counting on his customer-base to report back on what they like or don't like.
"What it is is the biggest thing is listening to the community," he said. "I don't have the time to get out and go on these adventures and test out all the gear.
"They're the ones that're out there every day, testing products for months and months and months figuring out what works well and what doesn't."
His own wealth of knowledge and experience came in handy too, having worked as a guide, and for years at outdoor stores such as Mountain Equipment Co-Op and Campers Village, also holding a degree in eco-tourism and outdoor leadership.
Having the independence to then act on those user reports is the next piece of the puzzle.
"When there's no bureaucracy, I don't have to go to somebody else, I just do it," Hebenton said.
"It's risky because sometimes it doesn't work, but I just keep my finger on the pulse."
From there, he searches through suppliers outside of major brand names, doing the homework to find quality products in the ocean of off-brand goods.
"Then from there it's also looking at, 'OK, this is working very well, is there a cheaper option than going with the brand name piece,'" Hebenton said.
"Thats where I spend a lot of nights talking to factories and sourcing, bringing in products I think would be a good substitute."
The small loft shop is stocked with everything from hiking microspikes (a necessity for Alberta hikes in the shoulder season), gaiters, backpacks, dehydrated food and even four-season tents.
Honing in on just what people need is what earned Hebenton his customer base and loyalty.
"Not upselling or downselling, but giving people the right things for what they're doing," he said.
"People come in and they realize I'm not bullshitting them, I'm not selling them one thing that they don't need and then they feel comfortable here."
The business currently operates by appointment only, as well as through online ordering and shipping.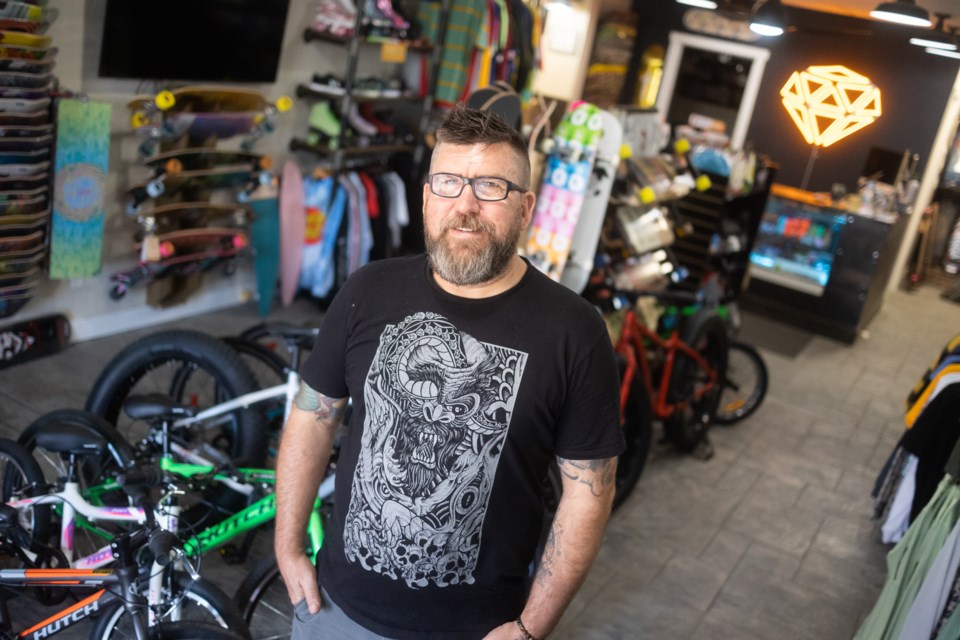 Rollick Co.
Colin Fleming started fixing bikes from home. When that began to outgrow the garage, he opened up shop on Government Road in Black Diamond.
"I was working a corporate job, and we always wanted to go hiking and camping, but my job kept getting in the way," Fleming said.
"I decided to start with bike repairs in the garage as a kind of side hustle and then quit my job and decided to expand into fishing gear, and it just ended up being that I didn't want to be at my house anymore.
"Rollick started in the garage, and then COVID came and I was stuck working at home, dealing with kids and customers all at the same time."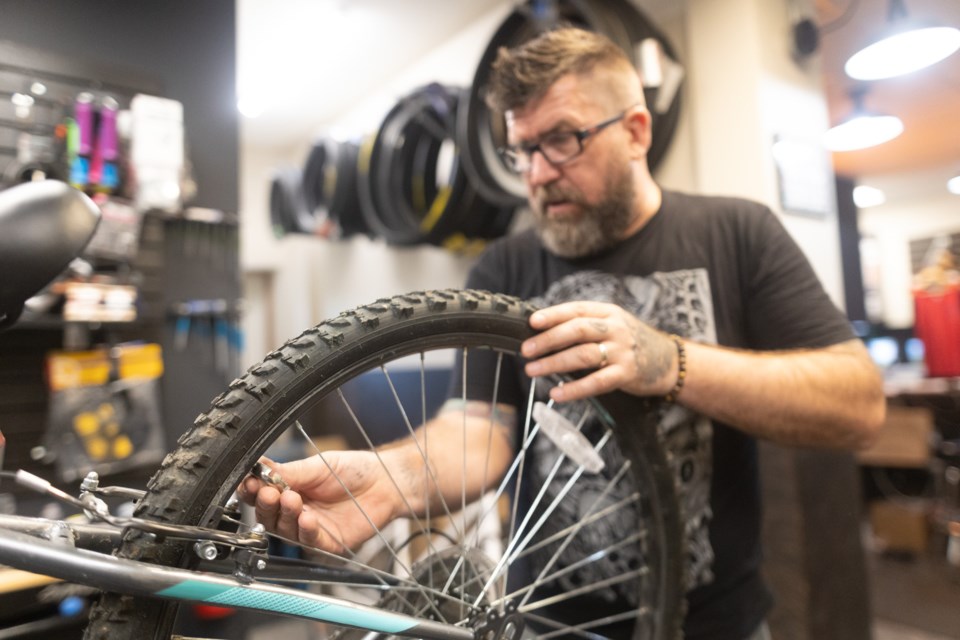 Today, Rollick Co. now sells everything from skateboards to fishing gear and plenty in between, as well as rentals for e-bikes and paddleboards.
"These are all the things I love doing," Fleming said.
The main focus for Fleming is keeping it close to home, offering lineups from other small local vendors from the Foothills, such as The Wild Stuff and Foothills Foragers.
"These little guys that can't afford to have a big store of their own, just to be able to help them out," he said.
Even some of his big-ticket items don't travel far.
As the e-bike market bloomed rapidly in recent years, consumers may find their import can only be serviced by shipping to a factory across the country – or even overseas.
With that in mind, Fleming opted to stock MJM E-Bikes, made and serviced in Calgary, to ensure his customers wouldn't be left high-and-dry.
The business has catered to a blend of loyal locals and tourism – a major factor for the Diamond Valley economy.
"My wife (Jessica) and I work around the clock just making relationships with new people, finding new brands," Fleming said.
"I'm continually bringing in new brands, new things, new products, because I want that excitement.
"The regular customers really love coming in once a month like 'What's Colin got, what's new at Rollick this week.'"
Tom's Marine & Sports
Three generations work under one roof at Tom's Marine & Sports.
After originally started by supplying boats and parts for commercial or industrial use, until it found a growing demand from its customers for recreational canoes, which it now sells out of Okalta Road in Turner Valley.
"My dad started it in about '92 up in Fort McMurray," said Sean Weber, adding they still do a significant amount of business with the oilsands, selling boat parts, safety equipment, and are a Volvo Penta dealer.
The canoes came later, around 2014, still up in Fort Mac.
"It literally started with a phone call with a customer in (Fort) McMurray looking for any sort of flat-back canoe they could find," Weber said.
"My brother just happened to call Clipper Canoes out in Abbotsford and simultaneously, I had been looking for a canoe, something to just get back in the water with."
The foray into recreational canoes came naturally.
"Canoes are colourful and fun," Weber said.
"We grew up on the water – our playground was the Clearwater River. We're not hardcore paddlers, like I'm not a whitewater guy, I just love being in a canoe. I'm more of the easy river or lake any time of the day kind of guy."
The boating dealers didn't start in the Foothills, but found their new home here one by one.
The Turner Valley leg of the journey started when Sean moved in 2016 following the wildfires in Fort McMurray.
"My dad was visiting when the fire hit, he ended up staying down here for quite a bit of time," Weber said.
"He was living at a friend's place in Black Diamond for just about two full years and then he bought a place, and that's where we have the big shop and have all our canoes."
The new environs were a natural fit to float the existing business.
"Down here, there's lots of places to go so your choice of destination is huge down here – you can find anything you want," he said.
"So that was one of the benefits of living down here and trying to sell canoes – it just struck a chord and made sense to continue doing it if we could.
"We do it because we love it and because we can and because we have the opportunity to continue doing it."
Adding to its lineup of Clipper, they are beginning to sell Merrimack canoes as well.