Okotoks has more than 190 kilometres of roadways that range from major thoroughfares to gravel lanes.
The team responsible for clearing, sanding, plowing and maintaining those roads is made up of just seven people.
"Public works – we're the first ones in and the last ones out," said Town of Okotoks transportation team lead Peter McDowell.
Crews work at various hours of the day on any given day of the week to ensure safe driving conditions, which can mean hopping in the plow when the majority of people are fast asleep.
"We do go out at night, it's not just during the day," said McDowell. "There's lots of times the guys will get called out by the RCMP or they're out doing a check – they check a couple times before they go to bed, because obviously, they need some sleep so that they're not tired and fatigued.
"So, they will do a check a couple times before they go to bed and if they see that it's snowing, they might head out at that time if we've met that threshold," he added. "If not, they might say, 'Hey, we're going to go out at 3 o'clock in the morning' and they'll plan to meet down [at the shop] and get the trucks going at that time."
Being prepared means that staff members are constantly checking the weather forecast so they aren't surprised. Weather follows a calendar in a sense, but it doesn't care what time it is or what you've got going on that day.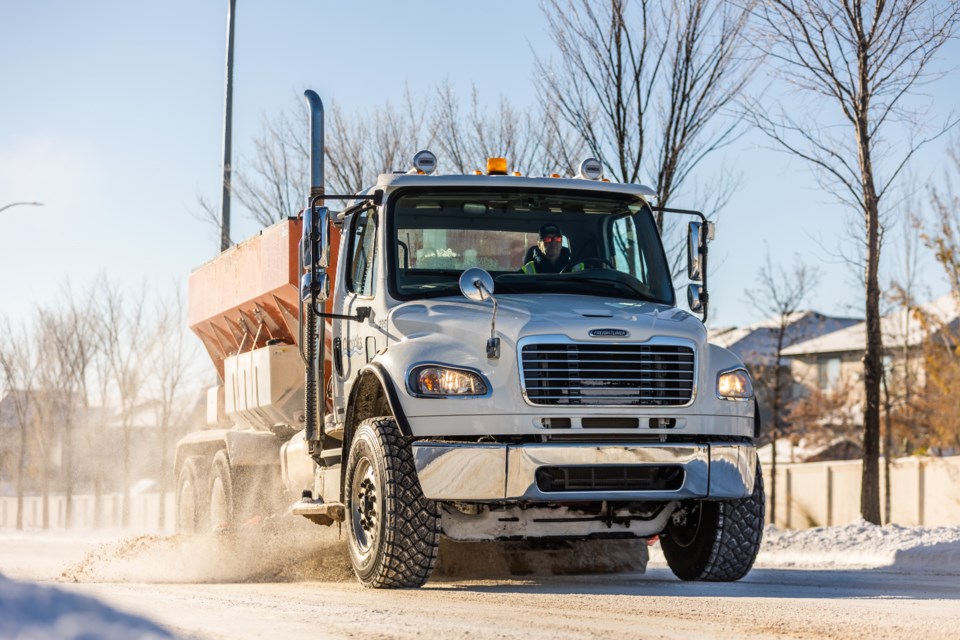 When snow throws a wrench in your plans, public works staffers are out and about doing their best to ensure if you must go somewhere, you can get there safely. Sometimes that means disregarding their own advice.
"When it snows and we tell people to stay home, we don't have that luxury, we have to come to work," said McDowell.
This can sometimes even lead to on-call operators being paged out on holidays, causing them to miss time with family and friends.
"They do make some sacrifices," he added.
Clearing all of Okotoks from snow is a big task, especially for a smaller team.
McDowell recalled a December 2020 snowstorm which left the town covered in a thick white blanket.
"It took our town crew plus five contractors to do snow removal throughout the whole town, trying to get things so people could actually move," he said. "And then we had to go back and actually physically remove the snow."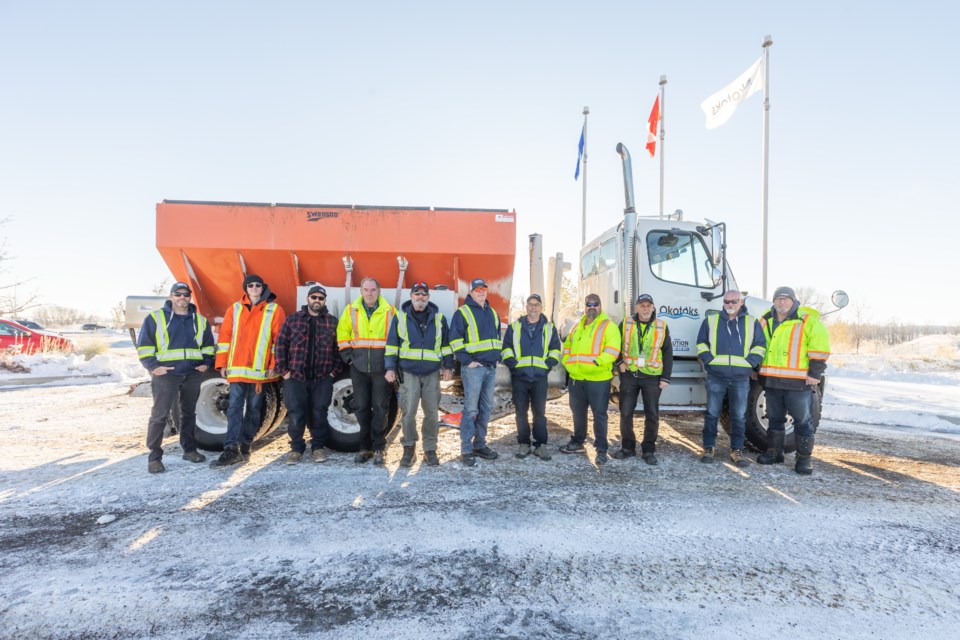 Unfortunately, the department isn't immune from complaints.
That 2020 snowfall in particular led people to air their grievances about the snow clearing system and protocol. Looking back on that incident and ahead to future heavy weather, McDowell wants people to know the team is doing its best, as timely as it can.
"It's a big task to do and when you only have seven operators, we can't all work 24 hours," he said, adding that employees will move to 12-hour shifts if a heavy snowfall is expected.
It's also important to remember to give the workers room to do their jobs.
"When they see us out there, give us a little room to work, we'll get out of your way as soon as we can, but we just need room to work and not have people trying to pass us or tailgate," McDowell said.
There's a lot for a plow operator to be paying attention to when they're operating the machine and having to watch for vehicles attempting to sneak by in their blind spot is an unnecessary added stress.
And, to ensure safety for yourself and other motorists, McDowell asks that you adjust your driving habits to the road conditions and ensure that you have installed winter tires.
The process for how and when snow gets cleared is quite simple, though not widely known.
To begin, roadways are divided into designations to determine the order of operations when it comes to clearing, cleaning and the like.
First up is priority one roads such as downtown, 32nd Street, Northridge Drive and Southridge Drive – roadways that see substantial amounts of traffic on a daily basis.
McDowell explained that because the Town's team is so small, these significant roads are contracted out to Volker Stevin.
Town policy states that sanding on priority one routes, arterial routes and downtown must start within four hours of snow accumulation reaching four centimetres. These roads must be cleared 24 hours after the snowfall has stopped.
Next are the priority two roads, like residential areas, which see smaller volumes of traffic. Collector roads are to be cleared within 48 hours of the snow stopping.
McDowell said roads are typically covered with 'pickle mix' — a combination of sand, gravel and road salt – when cleared by crews. Temperature plays a significant role in the time it takes to make roads safe
and passable for drivers, he added. If the snow is heavy and wet, it takes longer to get out of the way than light, powdery snow.
Typically, completing the priority roads takes anywhere from eight to 12 hours.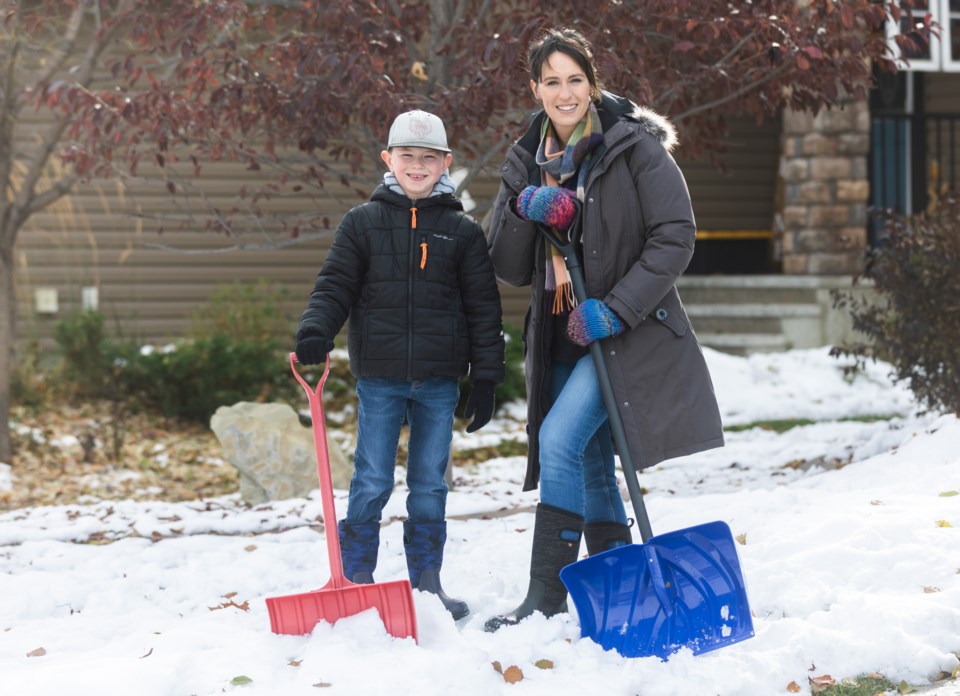 Adopt a sidewalk, be a Snow Angel
Not everyone uses roads to get from point A to point B — sidewalks and Okotoks' extensive pathway system are also frequented on a daily basis.
But for some residents, whether they use the pathways, sidewalks or roads to get where they're going, the challenge begins as soon as they open their front door.
For Okotokians with mobility issues, disabilities and senior citizens, clearing the snow from their decks, driveways and sidewalks can be tough.
The Town's Adopt a Sidewalk program aims to match volunteers with eligible residents to ensure everyone can get out of their house and moving safely.
Lauren Stack has been a Snow Angel since 2019, after looking for something to do while being a stay-at-home mom to two kids.
She had seen ads in the Western Wheel calling for volunteers, so when her youngest child started preschool, she figured she'd reach out to see if they needed some helping hands.
This will be Stack's fourth winter with the program. She has been with the same family the whole time.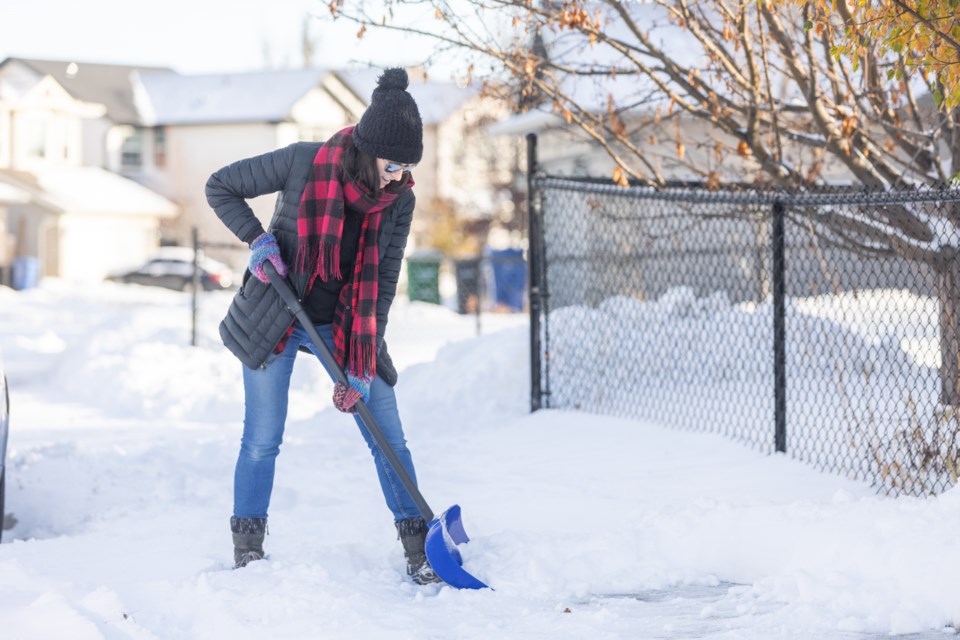 When the snow starts coming down, Stack gets dressed in all her winter gear and walks from her house in Drake Landing to her couple's house nearby, where a shovel and salt are waiting for her.
Volunteers have 24 hours from the beginning of the snowfall to have their area cleared. Most residents will have a driveway and a sidewalk to clear, but Stack goes one step further – clearing the couple's deck, their vehicles and even making a six-by-six patch of grass clear for the couple's small dog to do its business.
She's happy to know she can make a difference in her neighbours' lives.
"I think for them, just knowing they can safely exit their home, they're not trapped," said Stack, adding that a clear path to the house means home care staff and family can visit without worry.
"If you're able-bodied, it's just a small thing you can do to help somebody else," she said. "I find it's just an easy way to give back to the community and give back to someone else."
Volunteer Snow Angels are urgently needed this winter. To volunteer for the Adopt a Sidewalk program, call 403-938-8936 or email [email protected].
Stack said the position is flexible – if volunteers come down with a sickness or are headed on a vacation, their house can easily be covered as long as Town staff are notified.
"Everybody works together," she said.