From the classroom to the ice, an Okotoks hockey coach is getting a practical look at an issue she's dedicated her life to.
Rocky Mountain Raiders U18 AAA assistant coach Lauren Dormer is getting the chance to establish a new culture in elite girls hockey while applying real-world and educational experience as a PhD student studying gender equity in sport. "
I was taking sociology at Mount Royal University and I had this really great mentor that I found," Dormer said. "She's actually from the Okotoks community, Dr. Caroline McDonald Harker, and she basically showed me with sociology you can study a multitude of things so you can bring that passion you have for hockey into a very research-based world and then it just exploded from there."
Dormer played AAA hockey in her youth until she was sidelined with a bad concussion during her final season at the U18 level.
With her passion and experiences coming up through the hockey ranks as a woman of colour and advocate for mental health all intersecting, it led Dormer down the path of her PhD studies. Dormer is in her second year at the University of Alberta, studying hockey, culture, gender and health.
"I really love it," she said. "I think I've become even more passionate about it since starting coaching up again with the Raiders."
Due to some negative experiences with some of the more toxic aspects of hockey, Dormer fell out of love with the sport for a period.
She regained the zeal when her coaching took her to WinSport's development and learn-to-play levels.
"I was teaching kids that were maybe three (up) to a really great group of adult women, 90 per cent of them were moms who wanted to learn to play hockey so they could connect with their kids," she said.
Dormer said her supervisor at school encouraged her to take the position with Rocky Mountain. "He said, 'do it, do it, this is great insight for you and a great opportunity,'" she said.
The Raiders brand new coaching staff this season features J'nai Mahadeo as head coach with Dormer and Maia Smith-Merovitz as assistants on the bench as the team has transitioned to daytime programming for the first time while practising and playing games out of the Pason Centennial Arenas.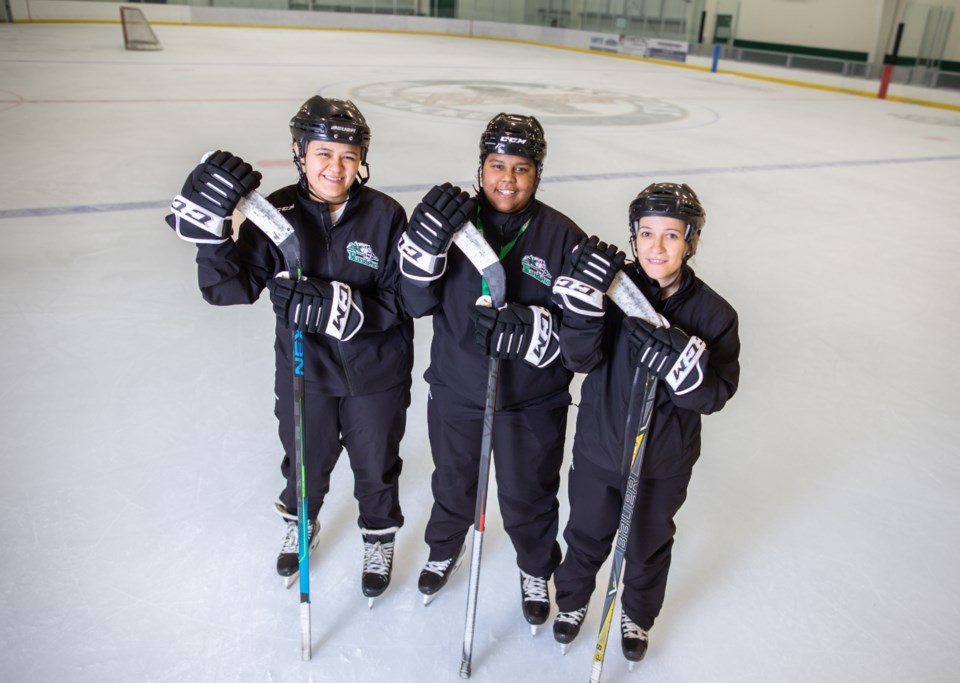 Mahadeo and Dormer have been best friends for over 20 years and jumped at the opportunity to share the bench.
"In our league, the Raiders are the only team with an all-female staff group," Dormer said. "It gets even more intense when you think we not only have three women heading up the bench, but two of those women are people of colour.
"We know that barriers to women increase significantly when you intersect race and ethnicity and gender and sexuality and so on and so forth."
Dormer played on boys teams until the age of 12 and 13 and loved it despite some hurdles that arose from time to time.
"When I was playing there weren't those extra dressing rooms so I would be getting dressed in the bathroom," she said. "And then I moved into girls (hockey) and at that time there was a huge gap in development. There was a stream of elite girls in the girls program, but definitely a lack of development that I really struggled with.
"When I got to U18, I had some pretty toxic coaching and it was just an environment that set me up to fail most of the time.
"I was a decent hockey player, but I struggled with mental health. That wasn't addressed; that was not even considered through most of the coaching experiences I had, especially in those U18 AAA years. So, when I left, that was a huge part of it, this was not a culture that I wanted to be a part of."
Her relationship with the sport had to change and that's where coaching development allowed her to reconnect with those just getting to know and falling in love with the game.
"Coaching development and doing research on it has helped me do that," she said. "J'nai are in an interesting spot too, because both of us are people of colour, I'm Chinese and she's Black, so there are other barriers there," Dormer said. "Watching my brother go through (hockey) I just wanted to copy my older brother, I wanted to be him, he was a great hockey player too and just wanted to be his little copycat.
"I think I was seven the first time I remember someone saying, 'You shouldn't be playing hockey, you should be playing ringette because that's a girl's sport.' And that comment was made by a parent, not by a child."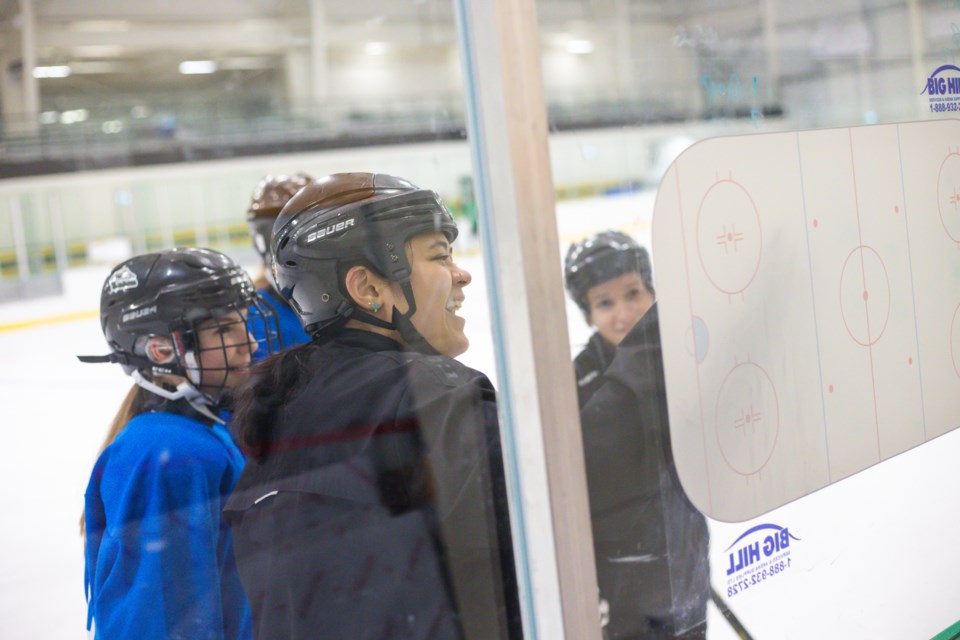 Dormer said her goal is to come back in 10 years and see Okotoks has a few of their current players coaching the AAA team and see more representation of women in management across the league.
Representation is vital, a fact backed up by the research she's been immersed in.
"I want to see Hockey Alberta take a step in that direction," Dormer added. "I'm actually on the Equity, Diversity and Inclusion Committee for Hockey Alberta, and it's cool to bring my background in and my research and why I'm going to school for so long and make it applicable."
As Dormer explained, sports is not a neutral playing ground and, "You can build a rink and put ice on it, but not everyone gets to play and not everyone gets the same coaches and experiences (or) the same equipment."
"We need to recognize that and understand hockey isn't this kind of utopia," Dormer said. "There are issues that need to be addressed by the community and not just people like me that go to university and study it.
"And the people need to know, players need to know, what's happening and this is why it's important."
Grappling with loving the sport and recognizing there are issues within it, was something Dormer has struggled with in the past.
"We were a hockey family, my whole media room and our parents' house we have our jerseys up, Bobby Orr pictures, Jarome Iginla signed stuff, so when I initially started diving into this I thought 'oh my god,'" she said. "Wow, I was a part of that toxic culture because that's how I was socialized within the arena. So, I'm really glad that professional players and some of those bigger names that might have a bit more social or cultural capital are stepping up.
"I find we're seeing that a lot when we look at racial inequality and diversity and inclusion there. But speaking specifically to the women's side, we struggle because we don't have as much influence on the professional side to bring that into the conversation."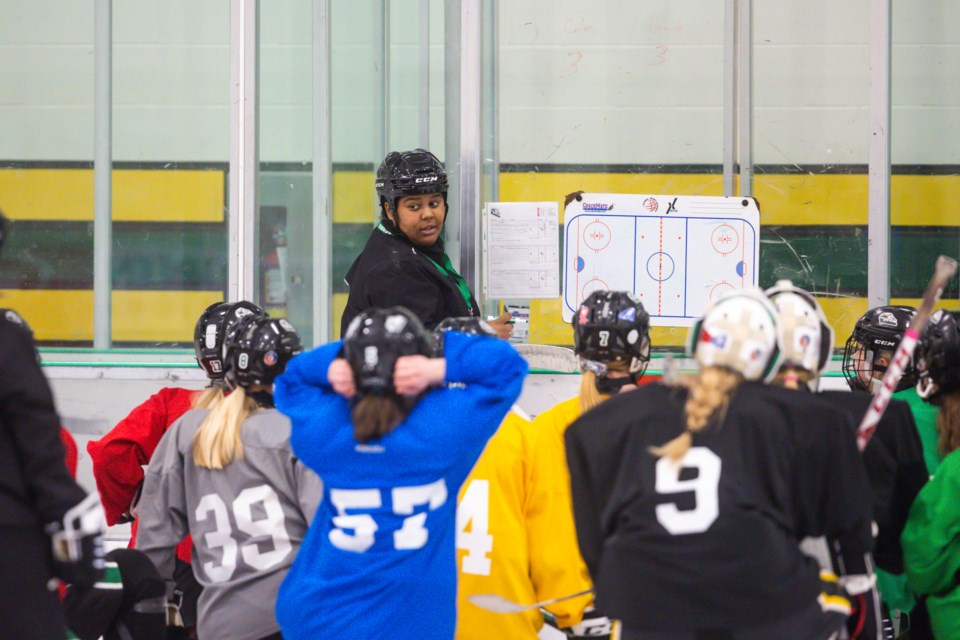 Dormer, who is currently in her second year of PhD studies, will collect data in her third year using community-based research to put forward her thesis.
"My hope is to do it in Okotoks," she said. "I'm a young researcher who doesn't want to sound naïve, but I want my research to impact the community I'm researching."
Currently, Dormer is working through the specialization exam phase of her academics with a focus on feminism in sport in Canada.
Her master's studies also looked extensively at mental health in sport.
"In academia, journal publishing is pretty important, getting your research published in articles and big journals," she added. "And yes, part of me, would love to have my research published, but my thesis work, I want it to inform the community policy that we're seeing.
"My hope is to do research in Okotoks and have those conversations pretty quickly to get that ball rolling once I get approved on the academia, bureaucratic side."
There have been a couple surprises along the way; including the lack of research on all-women participant groups within the research along with a few personal check yourself moments, she added.
"You need to reflect, acknowledge that you grew up in this environment that you're trying to change," she said. "Some of those things are habitual, I find, and I've had to acknowledge it and had to unlearn that hockey culture, unlearn it so I can re-learn it to reestablish what it could and should be in the future."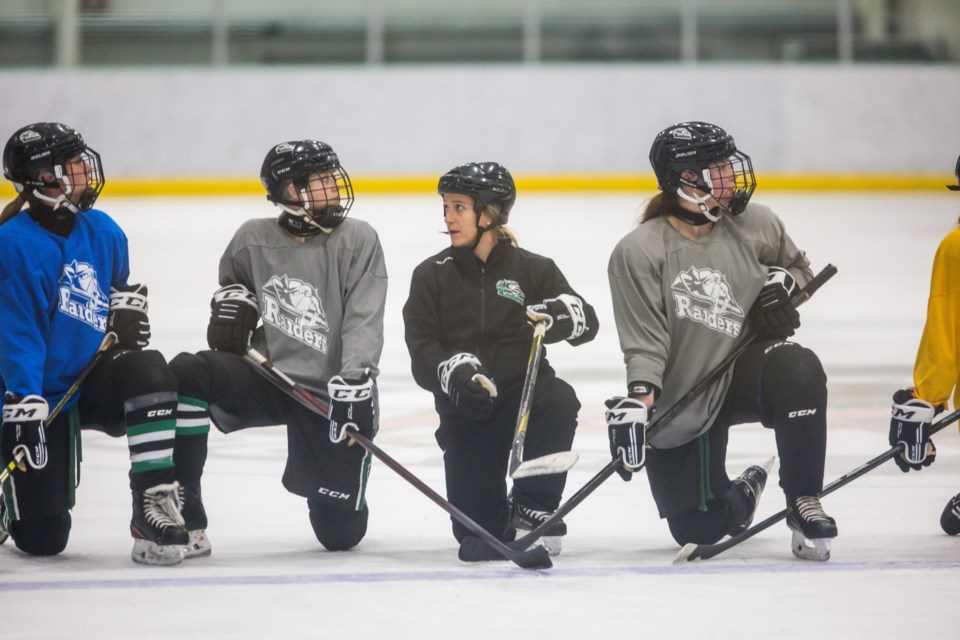 The Raiders are part of the Okotoks Oilers Athletic Association which has put a premium on gender equity with all three of its Elite stream Rocky Mountain teams headed up female head coaches.
The U15 AA squad features Okotokian and Penn State alumnus Amanda McLeod as head coach along with Katie Duncan and Jenna Beaton as assistant coaches.
"It's been super exciting and hopeful," Dormer said. "Our president (Dan Laplante) has been in our corner every step of the way, he has always expressed that we support you, but you also have your autonomy to do what you three need to do for this program."
Dormer said the support of the board has been encouraging and empowering.
"J'nai and I reminisce about this all of the time as two people who went through the academystyle where our parents paid a decent amount of money for us to have very similar opportunities to get on the ice, I think this a great opportunity," Dormer said. "Again, I think there's an adjustment period, there is no program like this in our league and in a space which is more accessible in terms of class where you don't have to pay $20,000 a year to get this academy feel."
The players are treated as student-athletes, coming from both Foothills Composite and Holy Trinity Academy, with an added emphasis on the academic side of the coin.
"I think that's a big adjustment, J'nai and I and Maia like to pop into the Comp, they've graciously given us a little office to work out of, " Dormer said. "It's nice to see our players pop into our office and check in. We want to hear how math is going? How did that social test go?
"This is all a great opportunity for them and I think it will open up some doors that might not have been open before."
The coaching philosophy is one Dormer described as holistic where an environment is fostered in which players are not afraid to fail or be innovative and learn from their mistakes on the ice.
"As our inaugural year with daytime programming as a new coaching staff, and the first season after basically two years off with COVID, we really wanted to create a culture of resiliency and freedom — autonomy," she said.
The trio is a hands-on coaching staff, Dormer added, meaning they're involved while also ensuring the players are too, for example checking in with the leadership group to see if the team needed a recovery day rather than a full-on leg day of dry-land training.
"I'm on the ice coaching four times a week, but I'm not practising four times a week and then playing two games on the weekend," she said. "So, how are we supposed to know how our bodies are responding?
"That's the culture we're trying to create and there have been difficulties. We've had our coach development director come in and help us too. But we've had support all the way both from parents and players and our board out in Okotoks.
"It's definitely a learning curve to create a specific culture in there as a new group."
Dormer said her studies have reinforced being aware of how she and the staff come off to stakeholders — be it the board, parents, other coaches or Hockey Alberta — because they are a group of young women brand new to the community.
"So there is, I would say, a certain level of pressure," she said. "Especially if we can't show that we develop something, create something in this team, on the outside what goes through my head is, 'can young women coach'? That's my biggest fear, I don't want people to question other young women and what they're doing in their hockey communities.
"I find there is a bit of pressure there to show something development-wise, culture-wise in the association as a Raider because that will impact on a broader sense maybe a peewee team in Grande Prairie who decides they want an all-women group coaching our girls team, or elsewhere in a broader Canada sense."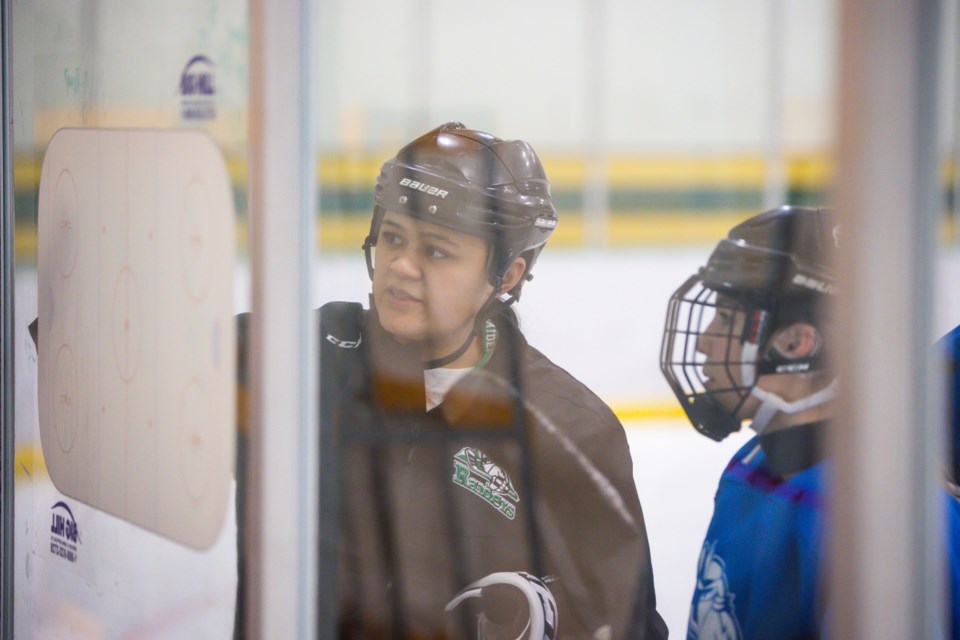 With that pressure comes what Dormer describes as imposter syndrome, a process in which individuals have perceived feelings of fraudulence despite overwhelming evidence to the contrary.
"I acknowledge that there might be a little bit of imposter syndrome on our end in terms of young, new, all women, two women of colour, but unfortunately I feel like as women in sport — especially a masculinized sport — we have to be acknowledged and that helps with legitimization unfortunately because that's just the power we hold at this moment," she said.
"So that's the pressure, is being acknowledged and having what we're doing be legitimized and valued in the community, even though rationally if we were men coaching I highly doubt that would be a huge aspect on the radar."
Dormer stressed that gender equality and gender equity, often erroneously used interchangeably, are not the same thing.
"I think the Okotoks association has really stepped up to the plate in that sense, they're starting to and trying to learn," she said. "The way I visualize it is, equality to me is you can build a road and everyone can travel that road. But equity is the type of vehicle that people have to go on this road.
"I find in the sporting community, we're starting to get decently OK and good at building the road, but the types of vehicles we give, meaning the resources, access to resources — and that can be coaching, dry-land sessions, mental health sessions — that is what we struggle with.
"As a coaching staff and with the board, we're really striving for that equality and equity piece."