Vantage points are everything for play-by-play broadcasters.
As the voice of the Okotoks Oilers for 10 seasons, Gino De Paoli's seen first-hand the evolution of the game-night experience from a problematic sightline in the corner to a centre-ice, front-row seat to the state-ofthe-art jumbotron.
"As a broadcaster for the Oilers it's come a very long way from broadcasting in the corner, which I still to this day don't know how it happened. That is a broadcasting nightmare," De Paoli said. "I finally told Brad Robson we need to be in the middle and he got me there and I took that as a win. We still didn't have much going on, we had that shootout thing, but there wasn't much fan interaction and I think that had to catch on.
"The sport of hockey, or any sport in general, has to address everybody. Let's be real, the attention of most doesn't last for two-and-ahalf hours. You've got to keep them engaged somehow. You've got to give them something to look at."
The jumbotron was there for two seasons and wasn't able to be properly used, De Paoli said.
Enter the expertise of Tyler King, Oilers assistant general manager, business operations, in the lead-up to the 2021-22 season.
"It's been a lot of fun," said King. "And what's great about this team is they had a lot of the equipment and the capability to do a lot of really cool things and all I've had to do is come in and try to plan out how it can reach its potential.
"It's been great to have a lot of buy-in from our staff, from our whole organization, in really trying to improve and professionalize the game-day experience."
Goal number one was to create an experience tantamount to what would be seen at higher levels of junior hockey while bringing in as many professional elements as possible, King explained.
"It's come an incredibly long way," De Paoli said. "And this is as NHL calibre as you can get for the price that you pay. "Everything has been better than what we had and all it took was a little effort and somebody that wanted to be there and do the right things and realize that you can't just make revenue or a good product by having a good team on the ice.
"It helps a lot, but you've got to give them something else, the YouTube channels, the social media…"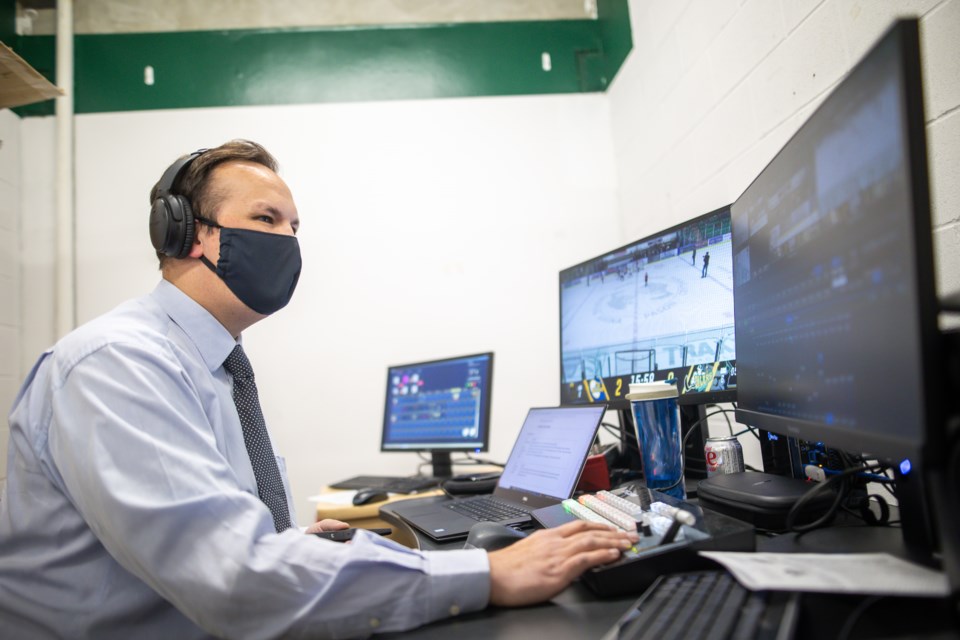 Promotions that engage with local businesses and partners, stepping up fan engagement, ensuring media timeouts are as dynamic as possible and the video presentation and replays are sound have all been a part of the process.
"Feedback so far has been really good," King said. "We're always striving to improve, we've tried some things that we're refining as we go along, but the important thing for us is we want people to come to a game and get more than they expected and hopefully that makes them want to come back again."
The video production on the state-of-the-art jumbotron is one of the improvements ardent supporters of the Green and Gold will have picked up almost immediately.
The jumbotron itself, which was purchased and paid in full by a generous donation from Chad Niehaus, a close friend of Okotoks head coach and GM Tyler Deis, has been above centre-ice since the start of the 2019-20 season.
"If you look at any good team with a video board, the board is the centre piece of the action," King said. "And it's what needs to draw people's attention when the game isn't going on. What we've tried to do is we're putting as much compelling content as possible on there, which includes replays and elements in game, but also fun little videos to go in the intermission, the promotions we do in the timeouts.
"We make sure everyone is looking in the same direction and that everybody is enjoying it. We've made some good steps, but what I would tell people is there really is a lot more we can do and will do.
"I think it will really come to a crescendo at playoff time."
This year, the Oilers have doubled up to two video cameras at centre ice, benefiting both those in the stands and those watching live-streams online.
"In the past they had one camera that had to be filming the play; if you wanted to get shots from the crowd, it had to be that camera and now we've got the two," King said. "One camera is your main wide-shot camera which gets most of the play and the second one is what I call the closefollow camera, it's getting our good replay angles, it's getting the close-ups of people in the crowd when we're doing our (promo) games and that's a good first step.
"The technology and the system the Oilers have here, the capability is there to have 10-plus cameras eventually. We're not going to be at that point any time soon, but we can actually have wireless cameras in the building that operate over the Wi-Fi network, a lot of really cool stuff that we're examining."
On a game night, King typically runs the graphics, the camera switcher and the replay system for the board. The instant replay process is something King has worked on throughout his broadcasting and communications career in the AJHL, with previous stops in Fort McMurray and Brooks.
"It's as simple these days, with the systems we have, as a click of the button to create a replay and all that's important is that we're timing it so people see a play develop," King said. "We like to start the replays fairly early on so you don't just see the puck go in the net, you see what led to the puck going in the net.
"And some of the best feedback we've got on that is actually coming from the coaching staff because they're the ones looking up at the board to see what their players did right, and sometimes what they did wrong."
For broadcasters, the instant replays serve a few purposes and King is the best in the league at what he does, De Paoli said.
"I like it so I can make sure I'm correct on things and can actually call out the refs when they get it wrong," said De Paoli with a laugh. "Calling a game by yourself, it can be really hard when you don't have anything to recall or pop your eyes at.
"It makes a world of difference. You can really describe who got it, who tipped it in. It's a broadcaster's dream and it's the standard if you want to be in the NHL or Western Hockey League, you need to have a replay system in place to see what's going on and make yourself legit."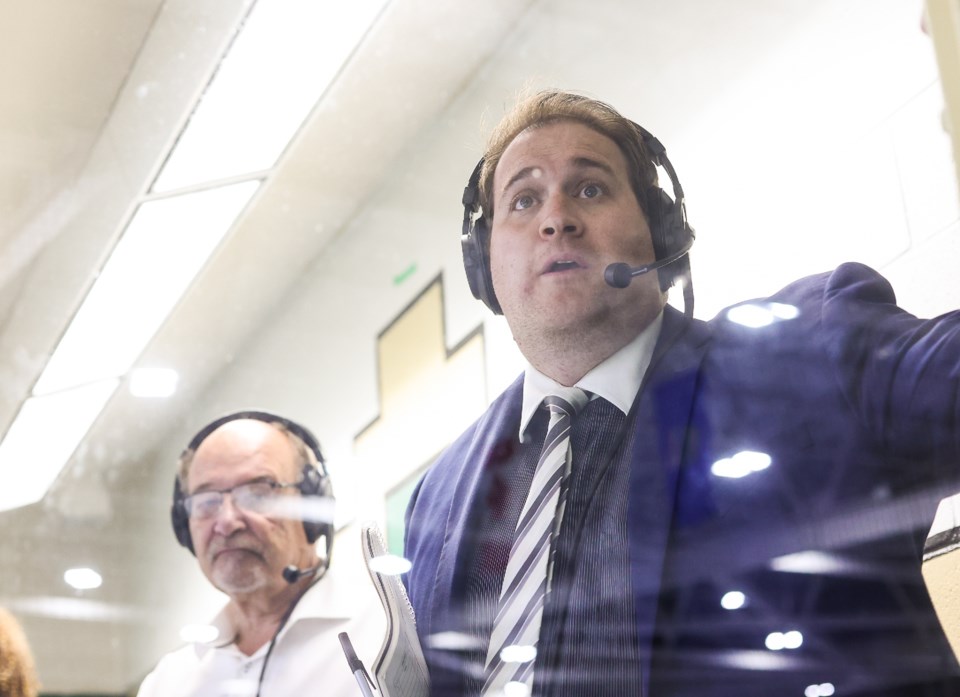 The production team behind the scenes has also expanded this year, a group that includes Oilers staffers, disc-jockey, host, game day co-ordinator Tara Kosek, PA announcer Mike Gould and a growing group assisting on the videography and editing side. Five students from Foothills Composite have been regular contributors to the game-day crew, a marked increase over past years.
"We've been doing it for years, but this is the year where we've had the most kids crewing," said Ben Stevens, new media/video game design and development teacher at Foothills Composite. "We've had kids participating in various roles for quite a long time. Our new media program, our film production program here at Foothills Composite, we do a lot of community involvement.
"Of course, we've got a lot of local sports teams and competitors here at the school that are participating in various levels of hockey and rugby and other sports so it made sense to try and get our technical crews out where they would benefit from the work experience. It's not always easy, especially in smaller towns, to build resumé experience for kids in some of the digital trades."
Particularly during the pandemic and a 2020-21 school year that saw opportunities in the local sports scene be few and far between.
"COVID slowed everything down and that's why it was such a nice thing to see because last year was brutal for all of this, we couldn't do anything," Stevens added. "And it's sad when the kids don't get the opportunity to apply what they're learning in the class."
The Comp offers a program for live-streaming and multimedia broadcasting and the opportunity for the students to have real-world experience and partner with the community at the same time is ideal.
"It's super valuable and it's always our go-getters that step up for these opportunities," Stevens said. "Our kids who are the most reliable, our ones who are the most committed because it's a lot of volunteer time.
"We hope that depending on the capacity on the business or entity that they're working with that sometimes it can turn into more than volunteer work."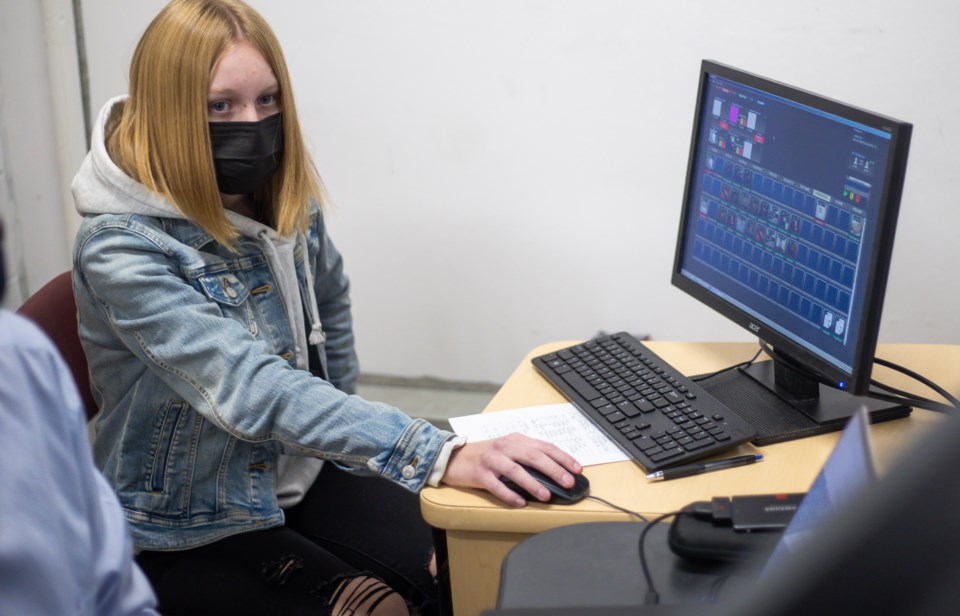 For De Paoli, it's been a joy to come to the rink every night and work with the production crew, even if that means space in the press box is increasingly at a premium.
"It's tight, but that's a good thing," he said. "It's great, the music is getting better, we've got people that want to be there and it's all around fun."
For King, the improved production is about engaging the fanbase and creating repeat customers as well as emphasizing to the players that lacing up the skates for the Okotoks Oilers is a big deal.
"That they get as much of a pro-feel as you can create in a Junior A rink," he said. "And being able to do a real high-end game-day production doesn't just mean you can look at up and see a great replay of that play you just made, but that hopefully the fans are engaged, they're starting to make noise and starting to get invested in things as we get into the final few moments of the third period.
"As we head towards playoffs and really start to show what these systems in this arena are capable of, I think not only is it going to payoff for our fans, but it's going to be a big piece for our coaches and players as well."
One mitigating factor the team is trying to address through the Town of Okotoks is that of the black netting above the glass around the arena. The issue has been brought up at town council and is slated to return to the table in December.
"There's definitely discussions that are ongoing with ourselves and the Town staff," King said. "What it would create basically is a better view for everybody, that goes for the online audience, that goes for the people in the stands. "Right now, we can put the most amazing content on that board, but if our cameras are shooting through the netting and people are looking through the netting to then see through the cameras shot of the net you can see how it compounds the problem.
"It's really the only drawback of the system we have. People need to be aware that we are the only team in the CJHL that has a video board that you've got to look through thick black netting in order to see it.
"My hope is we can start to move with the majority of spectator arenas are going."
King said looking across the league through the lens of the new reality with vaccine passports and other restrictions and seeing that the Oilers attendance figures are among the best in the league is a sign they're doing the right things on and off the ice.
Season tickets sales were strong for the 2021-22 campaign and overall ticket sales are comparable to the 2018-19 season, he added.
"That says to me that we're doing some really good things here and to me we've only really scratched the surface," King said. "There's a lot more we can do. What we've done so far is push ourselves towards the potential that the Oilers have always had and the next step is to say, "How much higher can we go?"