Two exhibitions at a Foothills-favourite gallery opened last weekend.
One by One, a two-dimensional piece covering the four walls of the Tower Gallery, was crafted by Juliana Rempel.
The Southern Alberta sculptor began the piece, comprised of 150 wall-mounted ceramic platters, with a blank slate – or more accurately blank plate – before adding marks and shapes one-by-one on the next.
"It's the accumulation of surface over time, it's to expose the process and decision-making that goes into a piece and how it unfolded," Rempel said.
"The thing that was different than the way I would normally work was that I didn't see a final result – I wasn't working towards the finished result.
"It was like every decision was significant, instead of the finished piece being the important part."
Punctuating the otherwise ordered grid of the evolving platters is a series of unorthodox vases, looking like they could have been summoned from a dreamscape.
Symbolizing interruptions in that pattern, they orbit a central wheel-thrown pot winged with pseudo handles.
"I think ceramics just allows me to do whatever I wanted to," Rempel said. "That's what drew me into the medium itself, but it was just by accident."
Growing up in Medicine Hat before attending Emily Carr University of Art + Design in Vancouver, she took a ceramics class by sheer chance.
"Then I just liked the immediacy of it at the time," Rempel said. "It's just a ball, because there are so many things to learn and so many things to be done in the one medium, I just never get bored.
"There's always something new I'm excited about."
In the main floor gallery is a group exhibition by emerging artists titled The Place I Am.
The assembled works were crafted by the multidisciplinary Clematis Collective, a 2SLGBTQ+ and BIPOC group comprised of Rachel Denbina, Elise Findlay, Emily Fyfe, Chloe MacDonald, Natalie Melara, Laura Olive and Vivian Smith.
Formed following their time in the Hear/d Residency at the Alberta University of the Arts, the group has created a body of work exploring the healing abilities of nature and its spaces for those struggling with mental health challenges.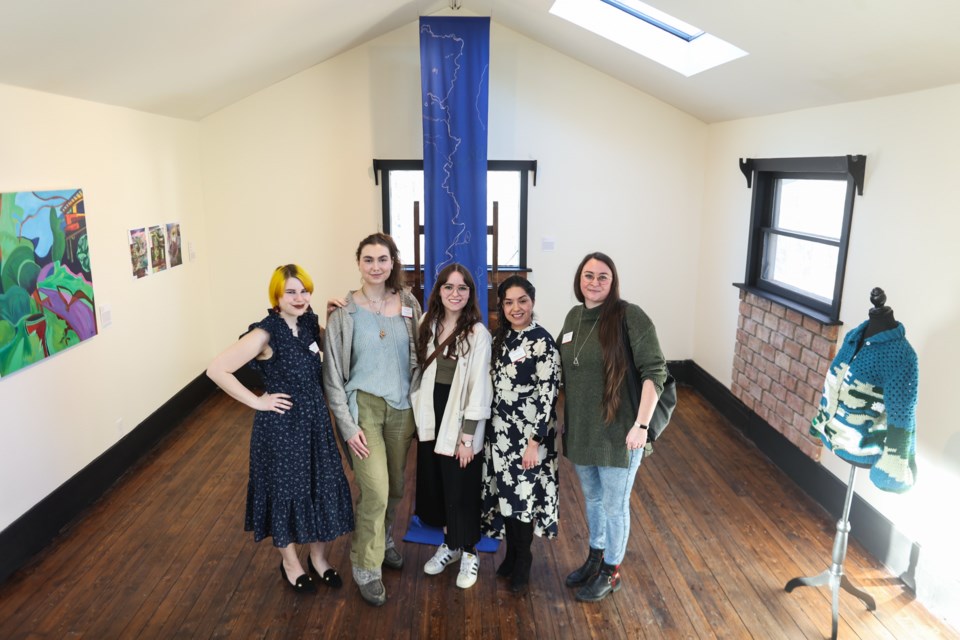 "This residency focuses on mental health, and how art can be a result of the struggles there or a coping mechanism," said Melara.
"We started our residency when COVID hit and we all went online and it just became really apparent how important that sense of community was, because we knew that every Sunday at least we would all have each other."
"We were able to be very vulnerable with each other and really just read and discuss what was going."
As the residency wrapped up, the collective was created, which Findlay said holds that space as new artists emerge.
"Each successive year of the residency we've gone and plucked new members of our collective out of the residency," Findlay said. "It's offered a place to talk about our work that was outside of school, in a way that we weren't getting judged or graded on anything.
"We were able to speak about our work with our peers, and it also held us accountable to each other.
"It's a safe, brave place."
The exhibitions are on display until March 26 and more information can be found at leightoncentre.org.