Black Diamond-raised rapper ZHE the Free has released an album centred around love and empowerment.
ZHE the Free dropped her latest album The Love EP at the end of 2020, topping Calgary radio station CJSW's charts in early January.
"It's about women holding space and using their voice in a way that's strong and risky and loud and holding opinions, and maybe brave and fun and sexy," ZHE said. "All the things that sometimes it's hard for women to hold space in."
The varied listening experience of The Love EP includes straight bars of rap, flowing melodies, and evokes ZHE's multi-discipline background of spoken word and poetry.
"It's also about carving out some space in hip hop for love. I think the track Love Me More is definitely a love song," she said, adding music is her main love affair.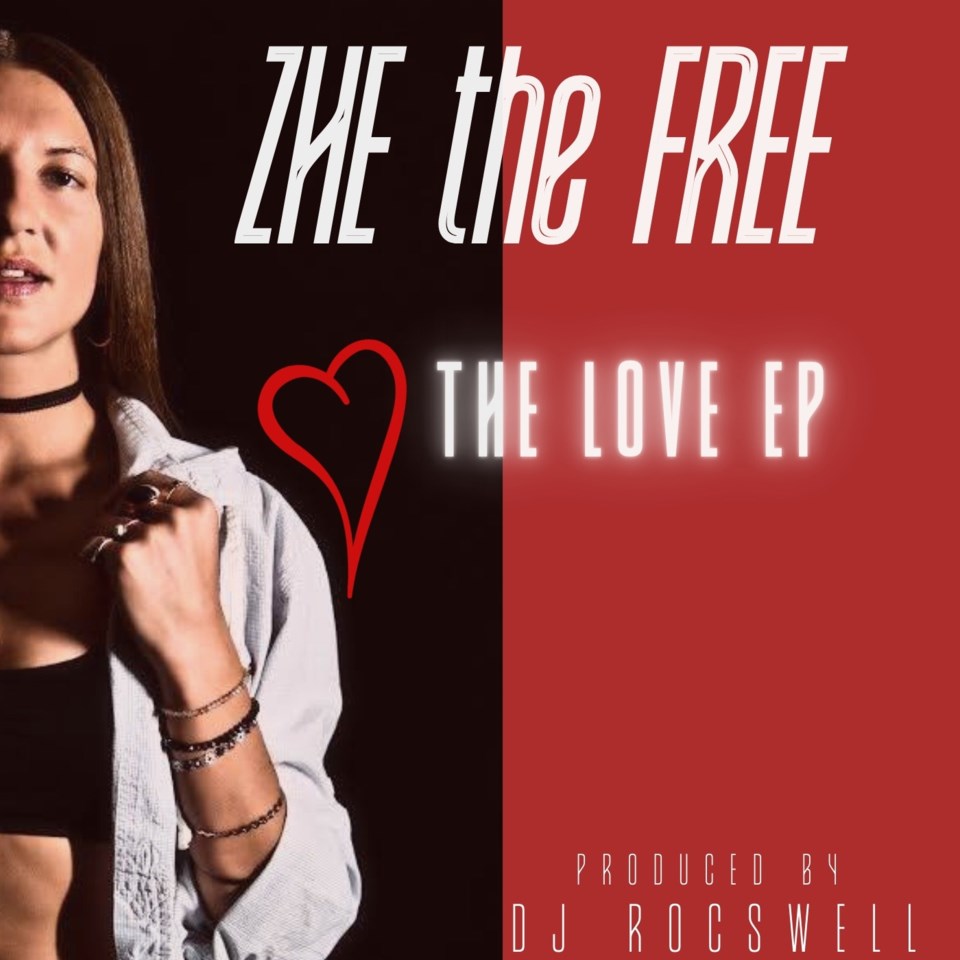 "Hip hop, in the way that I've come to know it, is very much about unity and love and people holding each other up, and sometimes that message gets lost,
she said.
"
I think carving out spaces specifically to talk about love as a rapper reminds people that this genre, and people who are a part of hip-hop culture, really understand what it means to unite and be living through love.
"
The track Love Me More also features vocals with Calgary hip hop and rap artist Teekay Othello.
"We have always just kind of been in spaces where we were supporting each other," ZHE said.
"When you're doing an EP, you kind of have like a limited amount of (space) to work with, and I really knew that I wanted Teekay, because he brings this beautiful R&B flow."
The feeling is mutual for Teekay Othello, who finds his style meshes with hers.
"It's always been a pleasure working with ZHE, I just feel like she and I have very compatible energy when it comes to the studio, and when it comes to anything artistic," Othello said in an interview.
Hearing a lot of rap and hip hop about material things by other artists, Othello said he sees an importance in the expression of value toward relationships and love.
"What's real is the things that we feel and the things that we think about and what mattered to us," he said.
He echoed ZHE's viewpoint that the genre, and art in general, can only benefit from more voices.
"At the end of the day, music is one of those things that connects us all together," Othello said.
"I think it's very important for everyone to be included, because music is such an inviting thing."
The album was also produced, mixed, and mastered by Calgary-based DJ Rocswell, who was 10th in the "Top 20 Canadian DJs you need to know" in Shifter Magazine in 2020.
ZHE said the EP was birthed through the process of working with Rocswell.
"We just vibed, I think because he values people who are doing things from a genuine place," ZHE said.
"We made one track, and then we made three tracks, and we were like, 'We have an EP. Let's do this.' It wasn't very planned. It was very organic, and it emerged, and then we had something we felt was cohesive."
While ZHE, who grew up as Zoe Slusar, may have felt a bit like a fish out of water as a rap-loving youth going to Oilfields High School in rural Alberta, she still cherishes her roots and credits her family for nourishing her musical spirit.
"It was very interesting to be a bit of a hip-hop head in small town Black Diamond," ZHE said. "I think I was super lucky that I have a really musical family.
"My dad was always playing records so that was like a big influence — he played a lot of stuff like Bob Marley, and so that idea of like poetry and beats was always there."
The rural life wasn't lost on her though.
"I have good energy towards the small town thing, and especially in this weird last year, the value of community and people knowing each other really shone through as a core value that we should really appreciate and foster," she said.
The community-minded artist also formed performance art collective Cypher Club YYC, through which she met Teekay Othello, as a means for creators to meet and share pieces, whether it be rap, poetry, dance or any other medium.
ZHE urged anyone who has a creative spark to add their voice to the conversation.
"Do it because you can, and we need you," ZHE said.
"I think the more diverse voices we have in all areas of society, the better. So we need more women of colour, we need more trans people, we need more men of colour, we need all people doing all things."