The Okotoks Art Gallery has opened an exhibition featuring indigenous and Treaty 7-based artists.
Several indigenous artists contributed their works to the Big Rock River: Contemporary Indigenous Art in an Ancient Land, curated by Alberta Rose W./Ingniq and Bruno Canadien and celebrated with a reception on Sept. 17, with a blessing by Tsuut'ina elder Gerald Meguinis.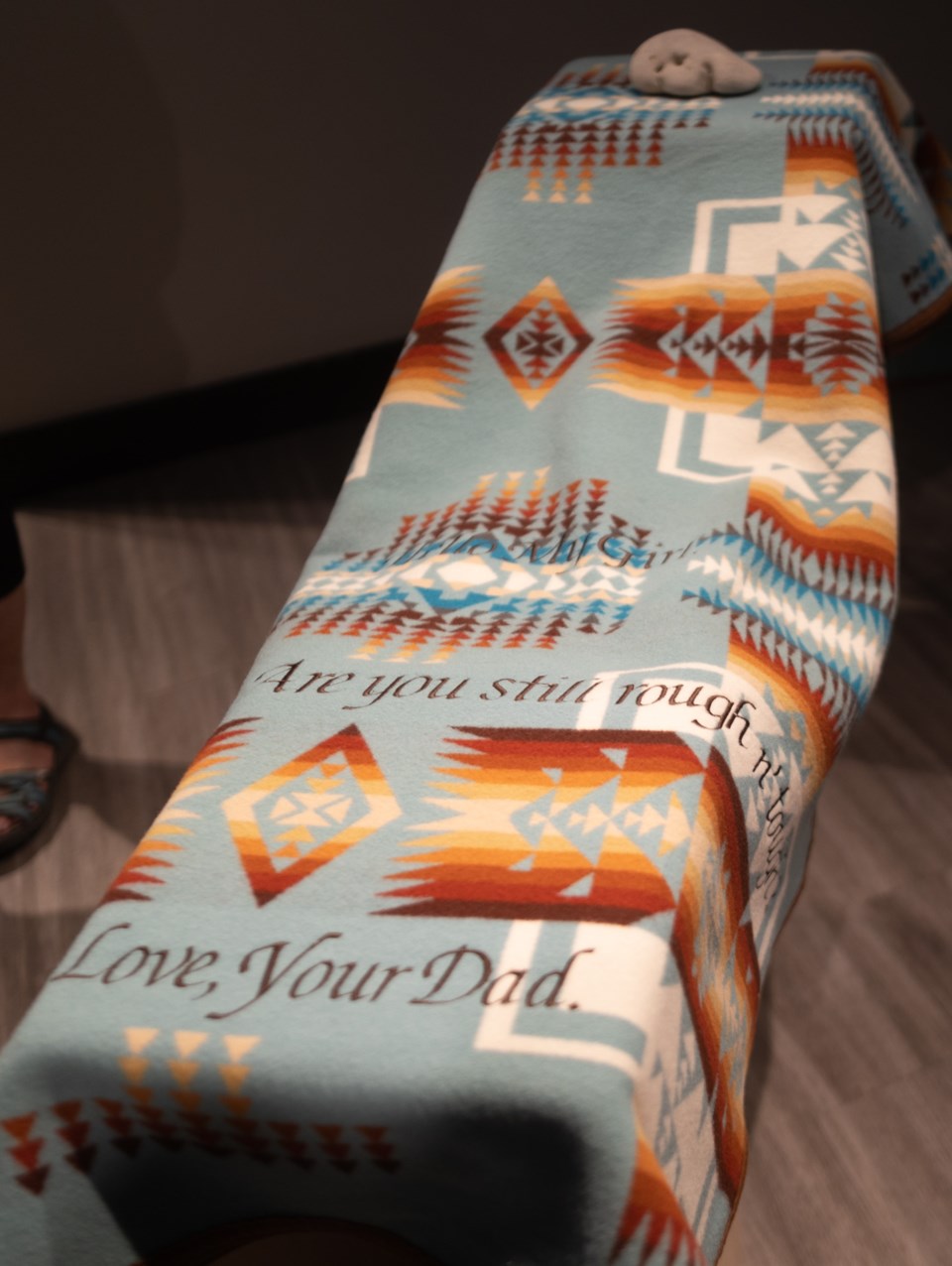 Hello My Girl an embroidered Pendleton blanket sculpture by Brittney Namaakii Bear Hat, based in Mohkinstsis (Calgary) of Blackfoot and Cree/Dane-zaa ancestry.
"I'm Blackfoot and half Cree, so with this work I wanted to blend those two things together," Bear Hat said. "From my Blackfoot side, I learned a lot about blankets as gift-giving, it's very traditional and an honour to receive a blanket.
"So I wanted to bring that element of care that I learned from my mom and my Siksika side, and then also have my dad in it as well."
The blanket reads: "Hello my girl, are you still rough n'tough? Love, Dad."
"He will just call me and ask me this, then hang up," Bear Hat said. "He's always been a huge supporter of my work and what I do."
Resting atop the blanket is a river rock.
"I also learned from my dad that river rocks are like a memento of your time spent together out on the land," Bear Hat said. "It's bringing those elements together, it's like a kind of care package."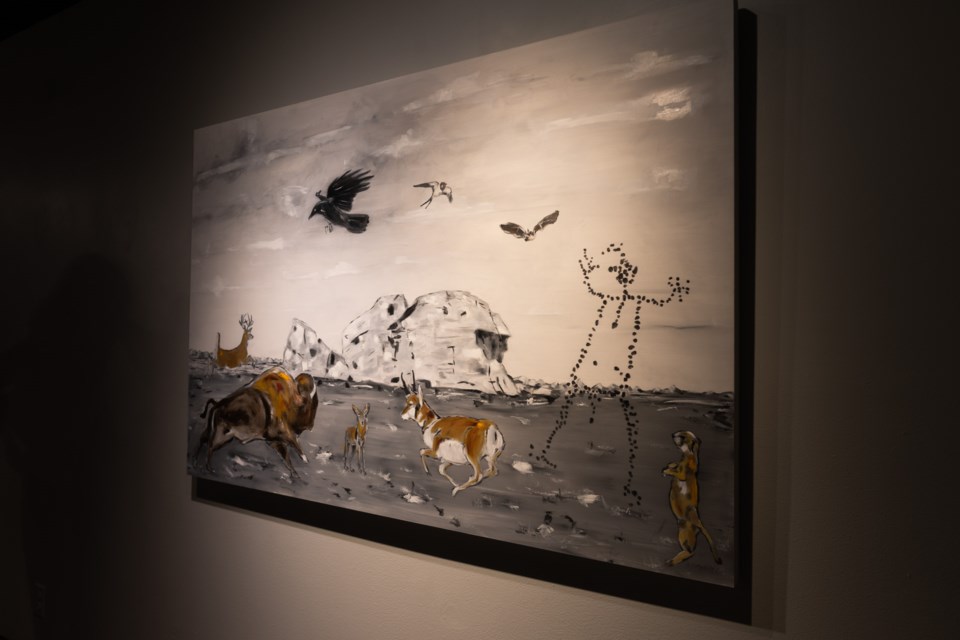 Trickster Erratic, oil on wood by Adrian Stimson of Siksika Nation.
Typically dealing in the grayscale, Siksika artist Adrian Stimson has more recently been working colour accents into his work, including this work depicting the Okotok story of Napi the trickster, as he had heard it from various elders.
"It was kind of a funny thing, because I think we've all heard one of the stories, and there are several circulating," Stimson said, the story where the trickster Napi had given a blanket to the Big Rock, only to take the gift back and be pursued by the rock before seeking aid. "But then, there are four culprits that I've heard; I've heard the bat, then there's a swallow, then somebody told me about giant gophers.
"Then I was down south with Elder Bruce Wolf Child and I said, 'What is the story about Okotok?', and he gave me the overview and said, 'But it's a raven.'"
To Stimson, the oral tradition and story holds wonder regardless of smaller details.
"So for me, it's like somebody said, it's like a blade of grass; you can have different sorts of blades, but the roots of it will always be the same," he said.
"When you look at the stories, it's really all about the splitting of the rock."
Ultimately, Simson opted to paint Napi as a stone effigy, as he had seen along the Alberta-Saskatchewan border.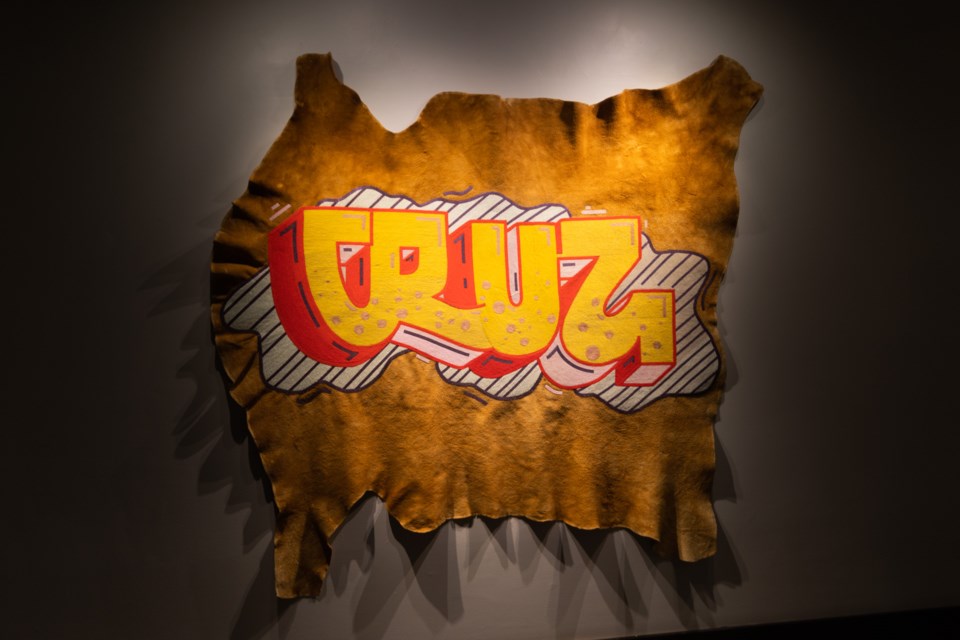 Exploit Robe (Going Pro), beads on moose hide by Judy Anderson, nêhiyaw from Gordon First Nation, SK and Associate Professor of Canadian Indigenous Studio Art at University of Calgary,
The large hide, spanning a wall of the gallery, is displaying what looks like graffiti, but upon closer inspection is intricate beadwork.
"This is my son Cruz's graffiti – when he was young he started doing graffiti," Anderson said, adding it was in a legitimate capacity. "When I started to think about ways I could honour him, the only way was to make an artwork, and the thing he was doing at the time was getting into art.
"So I decided to honour his and his journey as a graffiti writer, as a young boy coming into manhood and what he was doing.
"He was at the time about 12 years old, and that would have been the time that as indigenous people our boys would have been out helping hunting, or fishing or doing those types of things, but he was in school like all other kids.
"So I was thinking about the things that he was doing, he was doing graffiti, and I thought of that as like this great deed."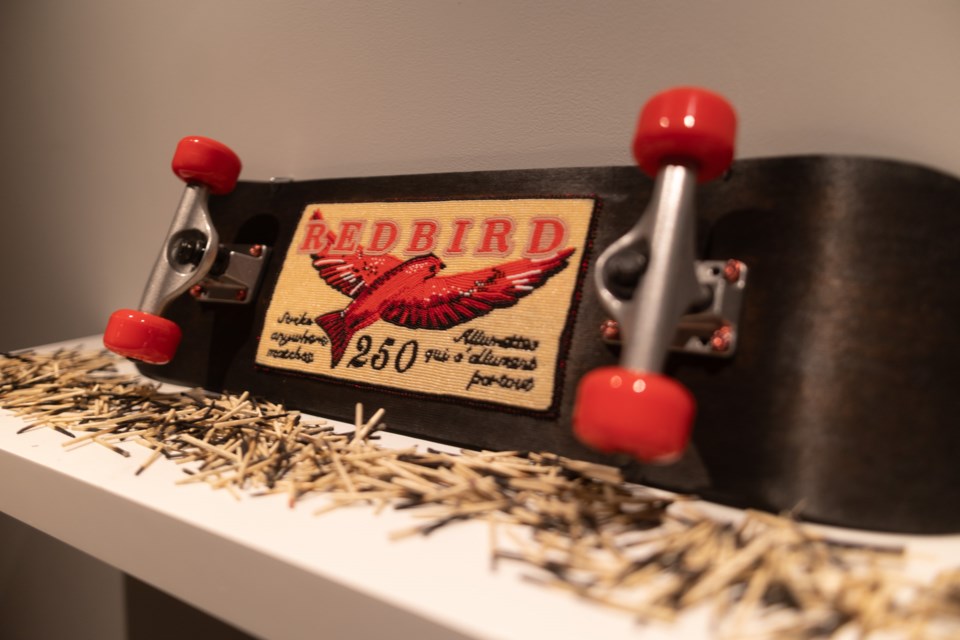 Embers of the Sun, beads on skateboard with other media, by Lucas Hale, residing in Mohkinstsis (Calgary), originally from Eelūnaapèewii Lahkèewiit Delaware Nation in Moraviantown, Ont.
Emblazoned on the bottom of a skateboard is beadwork emulating the label of a matchbox, with burnt matches scattered around it.
"Doing the skateboards is kind of a way of honouring both of my parents, so my mom's indigenous ancestry and then on my dad's side, he brought me up around skateboarding," Hale said.
This being his third skateboard, Hale said it was an extension of its predecessor, created around a traditional story of the Rainbow Crow bringing fire to Earth.
"The second skateboard I did was based on a traditional story about how fire was brought to Earth by the Rainbow Crow.
"I heard an elder say the flames of a match are like the embers of the sun, because that's where we got fire from.
"So just thinking about how we use matches in ceremony, all of those matches were burned while smudging, they were all used in ceremony."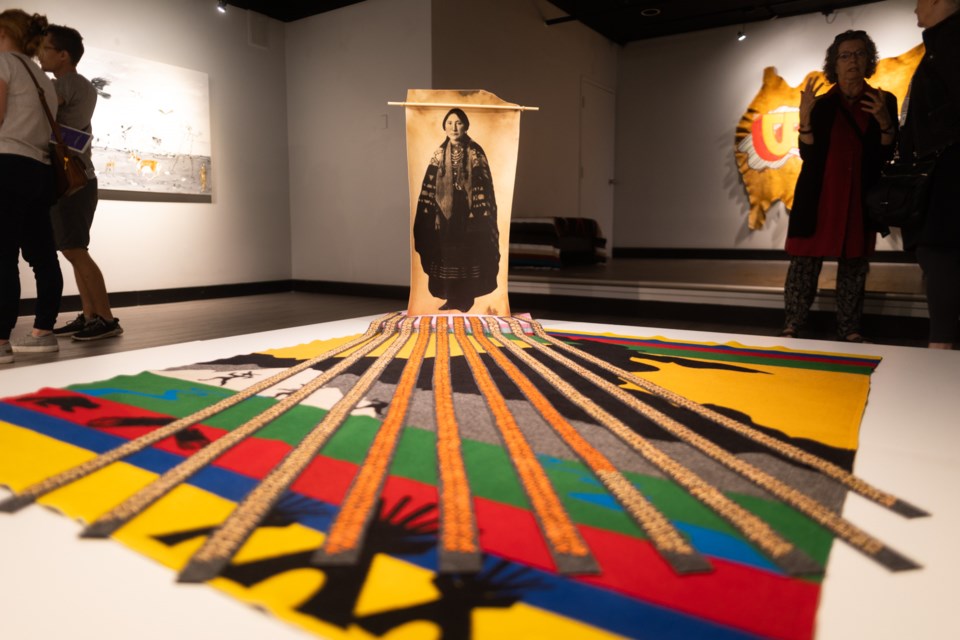 ina' (mother), mixed media by Tsuut'ina collective tīná gúyáńí (deer road), Glenna Cardinal and seth cardinal dodginghorse.
At the centre of the exhibit is a piece telling the story of family heritage and forced displacement, created by mother-son collective Glenna Cardinal and seth cardinal dodginghorse. In 2014 they were forcibly removed from their ancestral land on Tsuut'ina Nation for the construction of the Southwest Calgary Ring Road, the work is an assemblage of various materials with a photograph of Cardinal's great grandmother Winnie as the focal point.
"Where I grew up, my mom grew up, on Tsuut'ina Nation, was on Winnie's land," Cardinal said. "Winnie was one of the original people that made their home on Tsuut'ina Nation, and she and her husband, they had to adapt to be farmers and break that land.
"Having that connection to that land was really huge because I never realized how physical our connection is inherent or born into you."
As such, Cardinal said the piece centres around honouring Winnie, and mourning the loss of their ancestral land.
"When the land agreement was signed for the ring road, it was a process that was very violent and was very harmful to our little family," she said.
One component of the installation is rows of pennies, covered over by an X.
"With the pennies exed out, they ex out Canada, they ex out the monarchy, so I stitched on and that's 2,000 pennies there," Cardinal said. "When you see our history with our monarchy it's really huge, it affected us, and maybe if she would have spoke up and protected us, we wouldn't have had those residential schools, we wouldn't have our missing relatives that never came home.
"And that's what they paid to take that land is pennies – it affects us in our future for our people.
"Any loss of lands for nations, it's not growing, it's getting smaller."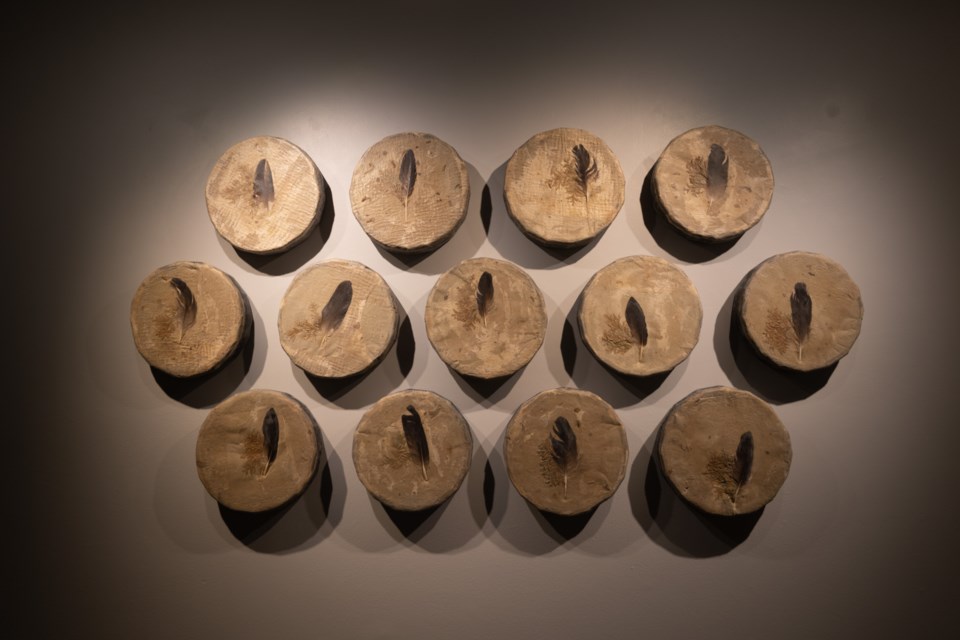 Between Land, Water, Fire and Air, mixed media drums by Tamara Lee-Anne Cardinal, residing in Treaty 7 territory and of Treaty 6 Nêhiyaw (Cree) and European heritage.
"The number 13 relates to teachings I received from my elders," Cardinal said.
"Thirteen sacred moons of the calendar year, that's how we used to chart our calendar, not by the Gregorian calendar but by full moons."
While made from paper and not intended for actual drumming like one made from hide, they are ingrained with medicinal plants traditionally used by indigenous people, a symbol of their rights to live as they did with nature.
Emblazoned around their perimeters is the articles of the United Nations Articles Declaration on the Rights of Indigenous Peoples.
"These pieces were meant to be more of a call to action around the work that the Alberta Recreation and Parks Association was doing with the surrounding nations, and so to remember those responsibilities to not only our people but the plants and the animals and our treaty rights," Cardinal said. "So that's what the specific articles are there, as reminders to us, and mostly others to allow us to live in traditional ways."
The exhibition runs until Nov. 4. For more information visit okotoksculture.ca.