The exhibitions opening this month at Leighton Art Centre each revolve around characters.
For The Grandmothers, a portrait collection by Airdrie artist Veronica Funk, those characters are the strong women who have been symbols of strength to their offspring.
Painting one each week, her portraits were based on old family photographs of strong female role models sent in by their grandchildren.
The project, looking back on past generations, was decades in the making.
"Several years ago my father passed away, and then the following year when we went back to Manitoba to go through old family photos," Funk said. "I found out my great grandmother was a midwife in South America.
"She had delivered the most healthy babies and her photograph is in a hospital in the city of Asunción."
Practising in a turn-of-the-century hospital in South America, Funk said her great grandmother Gertruda Toews was a trailblazer in safe medical and birthing practices for the hospital, learning from a Canadian medical textbook.
"She learned about sterilization, so she made everyone in the room boil linens, wash their hands and sterilize all the equipment they used, scissors and everything," Funk said, adding her aunt still possesses those scissors.
"She took the initiative to study and learn in order to help other women, and I thought if my great grandmother had done something this amazing, I would love to hear the stories of other grandmothers.
"I put out a call on social media and asked people to share photos and stories of their grandmothers and great grandmothers and the response was just phenomenal."
As the pandemic took hold, the project became a driving force for Funk.
"In March 2020, COVID hit and so many of our elders were directly affected, so it became even more meaningful as I went along with this process," she said.
"Plus having isolation time and galleries shutting down, it was so nice to stay connected to other people through this project.
"And to honour these women that have come before us, because there's just so much they have done to allow us to do what we do today."
The paintings, while created off reference photos from various eras, are juxtaposed with a layered painting style that incorporates other elements such as typography or lace graphics that complement the pursuits of that character.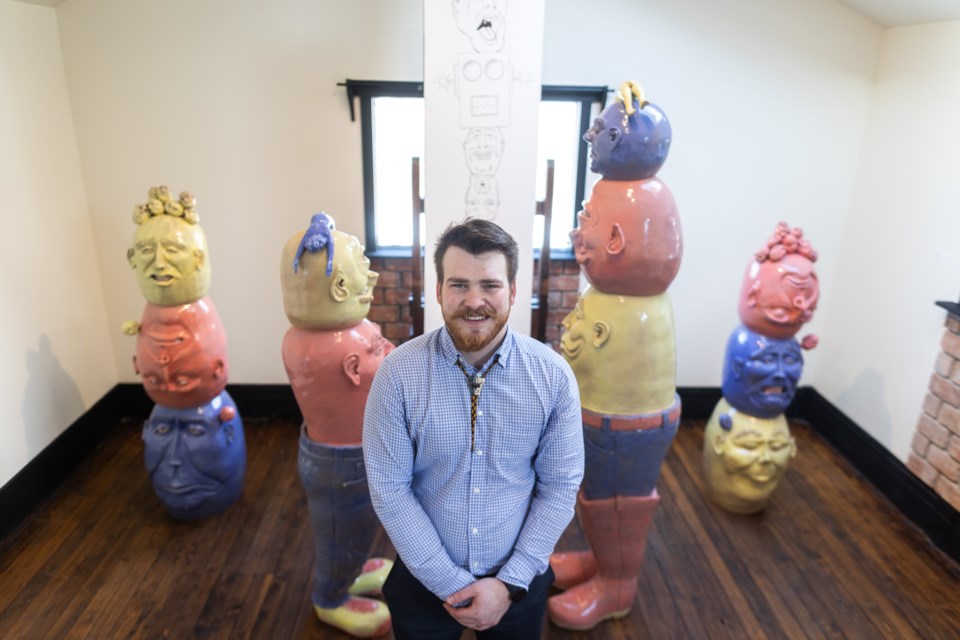 In a different vein, Matthew O'Reilly's collection of sculptures, Piles of Barbarism, is rooted more in a satirical take on humanity as a whole.
"A lot of it comes from my initial thesis work. The main frames I looked at my work through are satire and the monument in terms of satire," O'Reilly said.
Arranged as grandiose statues, O'Reilly's work favours bombast.
"They just embraced caricature and scale and a kind of big, fun, scatalogical at times, approaches to art and ceramics.
"I see myself looking at my work through that as much as I do old French satirists like Honoré Daumier."
In terms of physical form, O'Reilly said he had paid attention to a movement in ceramic art called California Funk.
"In terms of where the work comes from, I really like thinking about the monument a lot, especially today," he said.
"A lot of these ideas come from Sanford Levinson's book Public Monuments in Changing Societies and how do we grapple with our diversifying, increasingly pluralistic society and how do we make monuments reconcile with that?"
With that, O'Reilly said his work considers the opportunity in monuments embracing entropy.
"Do we have these permanent things that are written in stone for centuries, or do we have something more like the Fourth Plinth in Trafalgar Square?"
Also new to the gallery is a refreshed and expanded exhibit of Barbara Leighton's life at the historic Foothills homestead, with photos and curios of her own artistic pursuits.
The exhibitions are on display until April 2, and for more information visit leightoncentre.org.