Discussions are set to begin next week for the second year of Okotoks' four-year budget cycle and as inflation sits at a 40-year high, Town council is faced with the desire to maintain current services levels amidst increasing cost.
A preview of the budget was presented to council Nov. 13, ahead of formal meetings Nov. 23.
When the four-year budget was passed last December, the residential tax rate was expected to be two per cent for 2023. Now, with a recession predicted as early as the first quarter of next year, fluctuating interest rates, mixed messages on a provincial police force, recent changes and the potential for future changes in the provincial government, the 2023 increase for Okotoks ratepayers is expected to be 4.5 per cent.
"If I were to name the 2023 budget, it would be called the budget of uncertainty," chief administrative officer Elaine Vincent told council Monday.
Based on a property assessment of $469,000, the average single-family property will pay about $2,618 in property taxes in 2023. Last year, an average property value of $450,000 paid approximately $2,416 in taxes.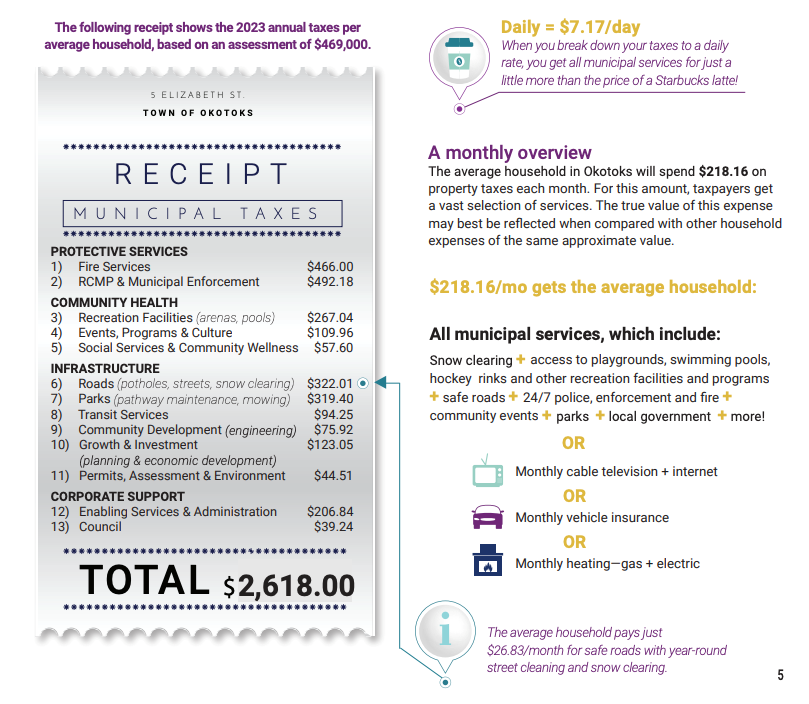 In a letter from Vincent included in the budget documents, she said the proposed tax increase was initially much higher.
"To support future growth and to ensure organizational readiness, the proposed tax increase by administration was initially over 15 per cent," she wrote. "Understanding that this burden is not acceptable, administration worked to prioritize the funding requests in alignment with strategic and operational priorities to ensure: A) Continued service delivery for the community; and B) Advancement of council's strategic priorities."
One of the biggest reasons for the rate increase is wages, Vincent added. The Town currently has a policy that requires it to pay mid-market salaries, so when other employers significantly increase their wages that impacts the organization greatly.
With so much unpredictability, Vincent said it is worth recognizing the areas that are within council's control – the new strategic plan and subsequent direction that was provided in its approval last month.
Those items are the operation of a new water pipeline by August 2025, the local transit system and affordable housing provisions, she said.
When Okotoks Transit was first launched late in 2019, approximately $850,000 was dedicated to the project, anticipated to serve about 20,000 residents, according to Vincent. By the end of this fiscal period, the Town's investment is expected to reach $1.2 million and in 2022 alone, ridership is anticipated to be 60,000.
On Monday, council also voted to increase the budget for the Town's affordable housing initiatives, including the Secondary Suite and Accessory Dwelling Unit Grant Program and the Below Market Housing Incentive Grant Program, from $215,000 annually to $315,000 annually.
Vincent said this amounts to a one per cent tax increase, cementing council's dedication to affordable housing.
To stay up to date on Okotoks' budget talks or for more information, visit okotoks.ca/budget.