Métis Week began in Okotoks Monday with the raising of the Nation's flag for the first time in the community.
The Town has proclaimed Nov. 14-20 Métis Week, including Louis Riel Day on Nov. 16.
A ceremony was held in the municipal centre courtyard where Métis Nation Alberta regional president Lawrence Gervais, Canadian Forces Veteran George Pambrun, Okotoks RCMP and emergency services members, and Métis members of the community were in attendance.
Fiddler Billy Joseph played Louis Riel Reel following a speech by Gervais, highlighting the significance of the flag for Métis people.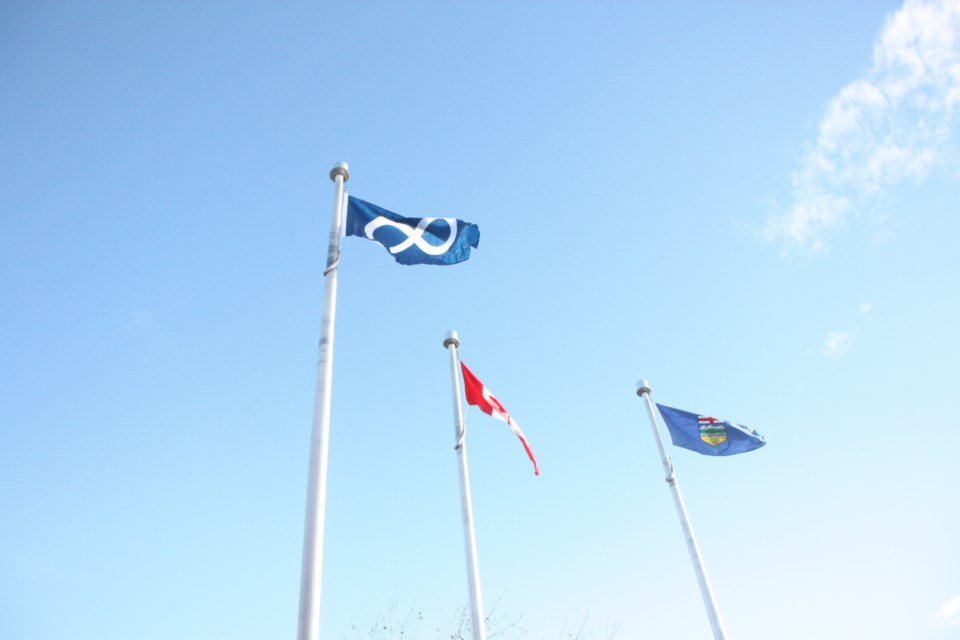 "The Métis flag is very unique for us because it really is a battle flag," he said. "It was one of the flags where we really epitomized Otipemisiwak — the people who govern themselves. We raised it in defiance to the settlers moving into the Red River and also during the Pemmican Wars, which predates Canada by about 50 years.
"And then Canada came and approached and we stood up against them again. So us as Métis people are always practising Otipemisiwak."
The Town of Okotoks flag was then lowered and removed to be replaced with the Métis flag by Cst. Candace Harris and Staff Sgt. Zane Semaniuk of the Okotoks RCMP.
Pambrun stood near in salute while Joseph played once again.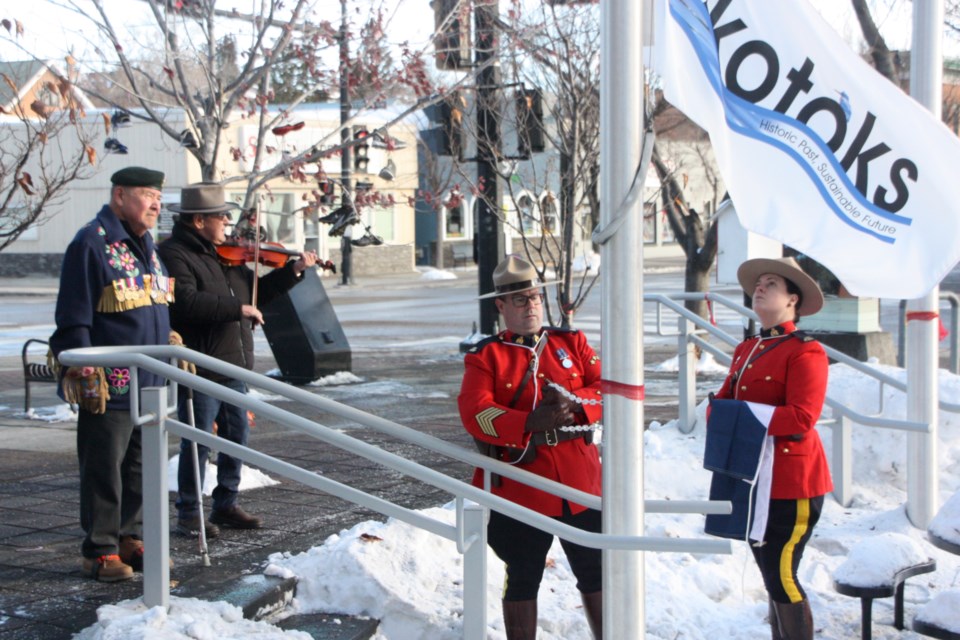 A ceremony for commemorating Métis week and the raising of the flag is a first for Okotoks, according to the Town.
On Monday night, the municipal centre's lights will be turned blue to mark the occasion.
Métis Week acknowledges the richness of Métis Society, as well as the history and culture of both Métis and non-Métis people. Louis Riel Day, a national Métis holiday, commemorates the death of the Métis activist.
In a press release, the Town said it is honoured to devote this week to recognizing the sacrifices of the Métis who continue to strive toward rights and recognition as a distinct nation. It is also celebrating the accomplishments and contributions of the Métis people.
Events are taking place across Alberta to celebrate Métis Week. For more information, visit albertametis.com or the Métis Nation of Alberta Facebook page.
The Métis Nation of Alberta and the Métis Settlements General Council also hold events in the province throughout the year.
To learn more about the Town's Métis Week proclamation, visit www.okotoks.ca/proclamations.