A dominant outing from a surprise starter and a clinic at the plate.
Not a bad recipe for a Western Canadian Baseball League Final icebreaker as Ryan McFarland pitched a two-hit gem to lift the Okotoks Dawgs to the 12-3 triumph over the Moose Jaw Miller Express in Game 1 of the best-of-three series, Tuesday night at Seaman Stadium.
"Growing up it's been a dream to play on this team," McFarland said. "When I got the call to start today I found that pretty cool, my parents were pretty excited and I had a bunch of family and cousins come to the game.
"And it turns out it all paid off."
McFarland, an All-Star relief pitcher, made his first start since the beginning of the regular season a memorable one with a dominant 7.2 inning performance, limiting the East Division champions to zero runs on two hits and two walks while striking out five.
"First couple innings I was throwing a lot of strikes and everything I threw was changeup, curveball, fastball and it felt good the entire game," McFarland said. "That first inning home run, that's what set the tone for me.
"I said 'This is our day, might as well go out there and fill it out.'"
The first inning big fly came off the bat of Micah McDowell who took Moose Jaw starter Ethan Merk over the right field wall for a two-run dinger.
The hits kept coming for the Dawgs.
Alejandro Cazorla crushed an RBI double off the wall in the fourth, Brendan Luther hit a solo home run down the right field line and McCoy Pearce drove in a pair on a double to make it a three-run fifth inning.
"Getting off to a hot start, we're trying to show who we are, that we're not to be played around with," said Luther, who finished with a team-high four hits and four runs from the leadoff spot. "That's the way we wanted to start and I'm glad we did."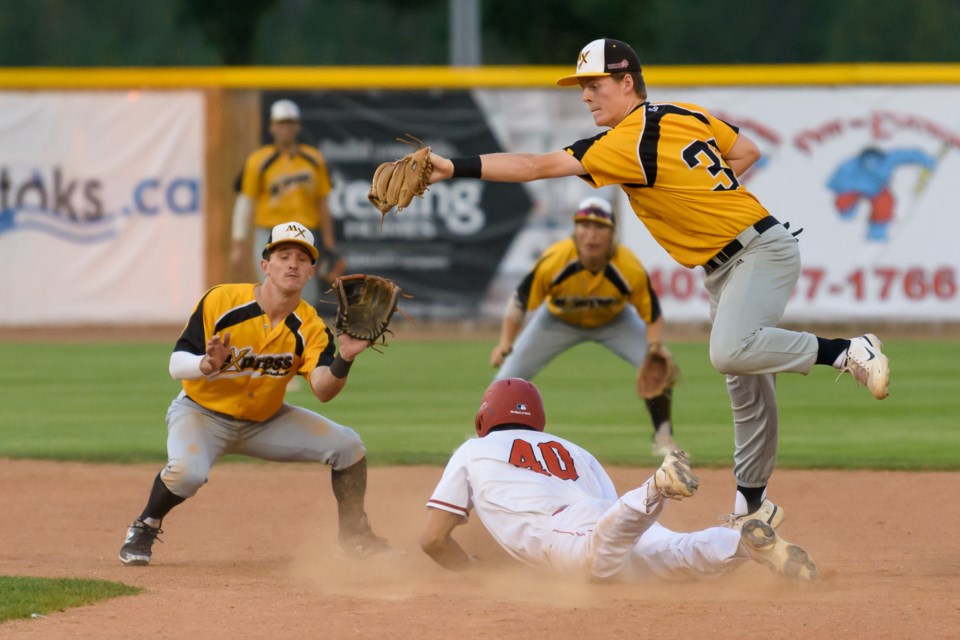 The Dawgs added four more runs in the sixth and a pair in the eighth to further put the game out of reach.
McFarland's nearly eight innings of work allowed Okotoks to save its bullpen for the remainder of the series with three relievers combining to record the final four outs as Moose Jaw tacked on three runs in the ninth.
"We knew at some point there was a possibility we were going to use (McFarland) and almost started him right at the end of the year," said Dawgs head coach Mitch Schmidt. "But we thought, we're not going to because we don't want to give anybody in the playoffs the idea that we may have a sneaker.
"We got that guy that can help bridge so that we can get our rest and get to another starter, Ryan did it and he gave us way more than we asked for.
"It couldn't have gone any better, he completely set us up for success. Now everybody working out of the bullpen will be working on three days rest."
Okotoks is a perfect 5-0 in the postseason and have taken advantage of the early momentum that comes from taking the opener in best-of-three sets that can be over in a hurry.
"We always knew it is backs against the wall if you lose Game 1," Luther added.
"We never want to be in that position and luckily enough we've started all three series that way where we get a statement early win."
Moose Jaw is seeking its first title since the 2002 season while the Dawgs are vying for their sixth championship in franchise history and fifth since relocating to Okotoks.
Game 2 is Wednesday, Aug. 17 in Moose Jaw. If the series goes to three games, the clincher will be back in Okotoks on Aug. 18.
The Dawgs are on the bus to Medicine Hat to rest for the night before completing the trek on Wednesday as they look to sew up the final in two games.
"My opinion, they have a good club, anybody can win tomorrow night," Schmidt said. "But I think that we're hungry and our guys are on a mission."