Foothills County Council has agreed to accept bids to license/lease
the Municipal Reserve Parcel located SE 32 22-03 W5M;
Plan 071 1951 Block 2 Lot 13MR containing 12.34 +/- acres (See map)
Public Access will not be denied.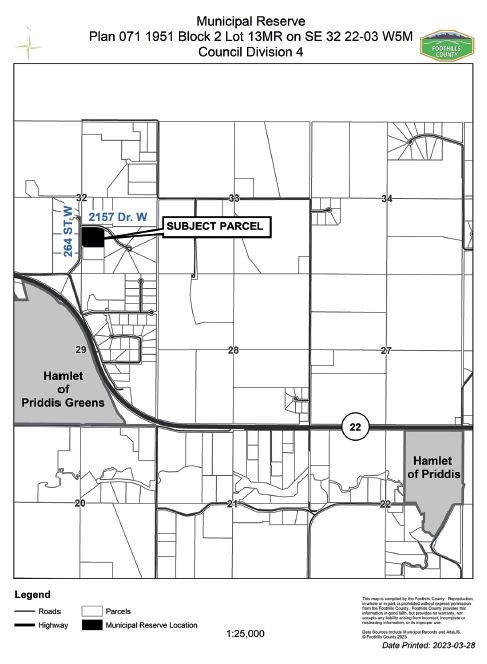 Municipal Reserve Parcel is marked.
All bids for Municipal Reserves are to include the following:
• Bid amount - minimum bid for MR parcels $250
(Refer to the Fee Schedule Bylaw 58/2022 - Schedule E
FoothillsCountyAB.ca for full details)
• Purpose of licence/lease (maintenance/haying)
• Proposed Management Plan (weed control)
• Proposed term of licence/lease
• Legal Land Description of Municipal Reserve
• Legal Land Description and Rural Address of the Foothills County
Landowner submitting bid
Bids will be accepted by email until June 2, 2023 @ 12 pm local time,
after which the submissions will be brought to Council for a final
decision. Late submissions will not be accepted.
Submissions to be emailed to [email protected]
Please contact Johanna Kortenschyl-Allan at (403) 603-6244 with
any inquiries.