A Diamond Valley micro-brewery has big plans on tap after clearing a major hurdle.
With a five-acre lot now in the hands of Brauerei Fahr, signage was unveiled on Feb. 2 at the corner of Main Street South and Decalta Road where the new facility will be built.
"Today is a great day," said Jochen Fahr, the brewery's proprietor and namesake, following the sign unveiling. "Finalizing the land purchase is a huge step forward, albeit just the starter pistol going off."
Now Fahr is off to the races developing the proposed 25,000 square foot facility, expected to run between $4-6 million, on the five-acre plot purchased from the Town of Turner Valley.
Plans include a restaurant and events space, as well as a second-floor patio facing west toward the mountains.
"I've been looking at more of a German-style restaurant, essentially elevated German street food, then of course a much-improved production facility," Fahr said. "The goal is still mainly manufacturing."
More capacity means more employment, with Fahr estimating they will add 20 to 30 new jobs to the existing team of 11.
The brewery first filled its tanks in October 2017, leasing a 5,000 square-foot building along Kennedy Drive in what was then Turner Valley, turning out its authentic German-styled beers.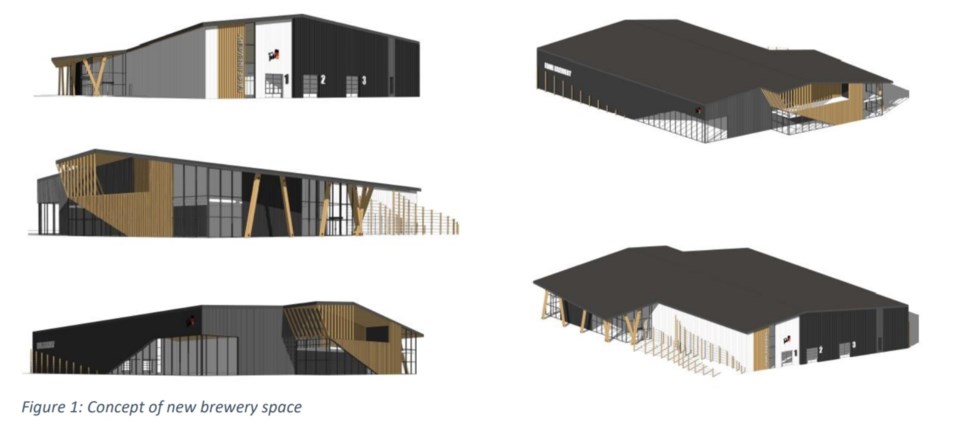 It wasn't long after the brewery filled its original facility to the brim.
"I thought this space would last me for about five or six years," Fahr said. "Turns out it was three years."
In the current location, the brewery turned out 500,000 litres of beer over the past calendar year, where the new facility would multiply that to 2.5 million.
It would also take the brewery from its current modest taproom to a full-on destination.
"In the summer it's usually really busy," Fahr said. "In the winter like everything around here kind of hibernates, there could always be more."
For the past two years running, the brewer also held a wildly popular Oktoberfest event.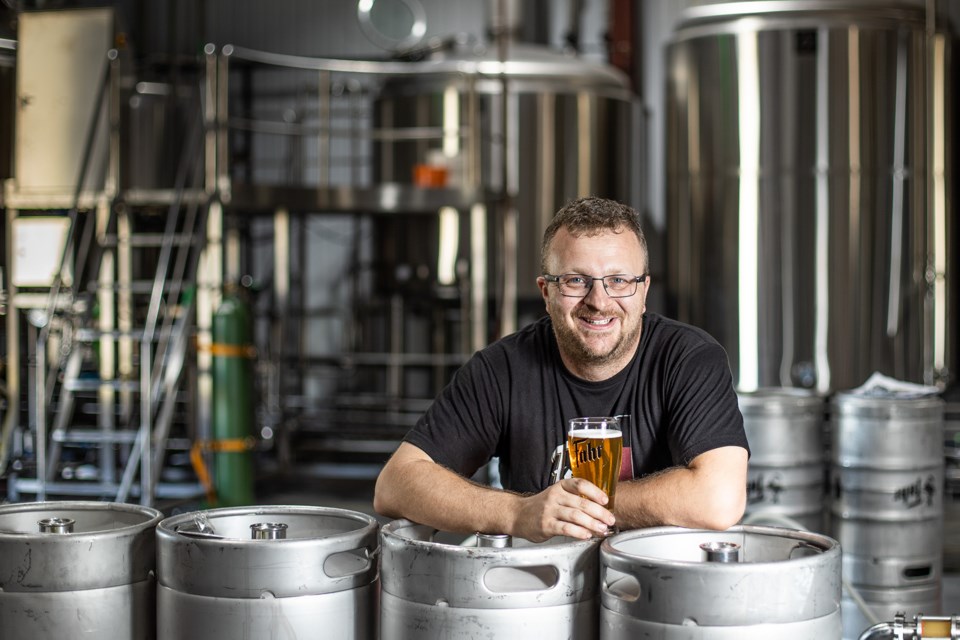 The expansion is a Fahr cry from the proprietor's humble beginnings, growing up in Ebringen, German, a town of 300.
Arriving in Canada over ten years ago, he got his master's degree in medical science at the University of Calgary, followed by a PhD in biomedical engineering.
For a time, Fahr would home brew as a hobby in his small apartment while working as a senior scientist at a plant biotech company until 2015, when he left the firm.
"One of my advisors at the time said, 'Well, you've been telling me about a brewery for years now, if you're not doing it now you'll never do it,'" Fahr recalled.
That direction turned out to be just what the doctor ordered.
Despite the lack of elbow room, Fahr's stein has runneth over with provincial, national, and international accolades.
In 2019, the flagship Hefe took the Canadian title of the World Beer Awards, stopping short of winning a world title.
That didn't slow Fahr down, as he told the Western Wheel at the time.
"Usually in the Hefe category, those are the 500, 700-year-old German breweries that exclusively do those beers," Fahr said in a 2019 interview. "Losing to them, I'm not very mad about it. Eventually I'll get them, though."
That he did, taking the 2020 World Beer Awards title for Best Bavarian-Style Hefeweisse, as well as Canada titles for his Pils and Copper Lager.
"I'm running out of wall space, that's why I need a bigger building," Fahr joked.
Turner Valley Council voted unanimously in October 2021 to rezone the five acres of municipal reserve lands.
Now across one finish line, the brewer begins another race, with a goal of getting shovels in the ground this summer.
"Now it's really on, financing, planning, and I have a firm deadline the town gave me," said Fahr, adding he is confident he can attract the required investment.
Having sat on Turner Valley, and now Diamond Valley councils, Mayor Barry Crane is happy to see the project go forward.
"This just seems to fit perfectly with the attraction and day tripping we want out of tourism," Crane said.
"For us to have Fahr Brewery is excellent, to have Eau Claire, another internationally renowned location is superb, to have them together is unmatchable.
"We are Diamond Valley because we have some world-class businesses and people."
More opportunities for not just tourists, but the town's own residents is a major driver as well.
"We're stoked, and the jobs that it's going to create are good-paying jobs people can actually get behind, with a living wage," said Crane, who hopes to see the town become a destination, offering a less-crowded option with its own inroads to Kananaskis.
"If we look at the overload of population and tourism that happens in Banff, Jasper and Canmore, we're equally distant when it comes to the big city, but we offer something they don't, and that's space to room to move."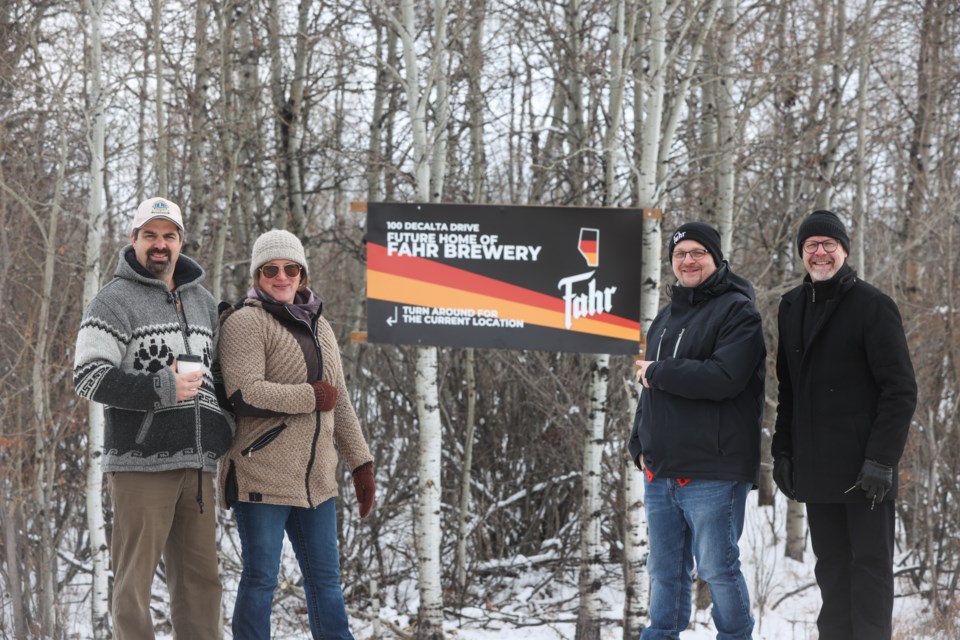 The bureaucratic process didn't proceed without some voicing concerns, Crane added, saying he was confident the system worked.
"An elected official's job is always to listen to those concerns and then balance those out against the greater good of the community in the long-term run," he said. "This was unanimously voted on by council as being something to benefit the community as a whole.
"Really, you do have to do a case-by-case basis, and there were passionate people who had concerns council listened to, and there were also people who had valid concerns of the benefits.
"It was good to have the public engagement, sometimes we ask and don't receive.
"In this case it was 100 per cent to encourage the business retention, especially when you have such a fantastic business and business owner as Fahr."
Joining Crane on council is Black Diamond incumbent Veronica Kloiber, who agreed the development is the right step forward.
"We're very excited to have more growth, smart growth," said Kloiber, a member of the Economic Development Committee and Foothills Tourism Association (FTA).
"We really want our community to turn into a four-season destination. We hope to maybe not maintain summer numbers, but hopefully double or triple what visitors we see in the winter months.
"The concept is sound: we did a study through the FTA, and people aren't going to drive out here for an hour to do one thing – they want a day-long package."
With files from Megan Thrall.